No more desire for noodles with sauce? Then stop by the local market on Saturday and spice up your dishes with regional products!
The Tennengauer Wandermarkt is a weekly local market taking place in the region of Tennengau, part of Salzburger Land, exclusively with local producers from the region.
You can buy the regional food and handmade products directly from the producers without intermediaries. The regional market takes place every Saturday from 8 am to 12 pm. However, it changes its location. The regional market is represented at a total of 5 locations. Hence the name, because the market "wanders" from village to village, so to speak.

History of the Tennengauer Wandermarkt
In 2019, the market was founded by Juliane and Gusti Rettenbacher, Da Waldhofer. First, the so-called Taugler Körberl was created in St. Koloman, where local producers make their products available in an online shop and locals can place their orders weekly. Fridays are always pick-up days. Based on this concept, the idea for the Tennengau Wandermarkt was born so that not only one municipality could offer the opportunity to shop regionally every week.
The intension behind founding the Tennengauer Wandermarkt was therefore, to enable customers to shop locally in the region of Tennengau, part of the rural regions of Salzburg, every week.
The 5 Locations
From April 2023, the Tennengau Wandermarkt will also take place in a new location, Russbach am Pass Gschütt, and can thus be found in 5 villages in the Tennengau:
Golling an der Salzach (market located next to the municipal office)
Kuchl (market located directly in the centre, between primary school and Spar)
St. Koloman (market located at the Lagerhaus)
Scheffau am Tennengebirge (market located at the car park next to the football field)
Russbach am Pass Gschütt (market located Seestüberl next to the water park)
From the FH Puch Urstein, the Tennengauer Wandermarkt is very easy to reach by public transport at the Golling and Kuchl locations. The other locations are not so easy to reach by public transport, but it is easier to reach by car. As the market is focusing on local producers and seasonal products, the local providers may vary depending on the location. Furthermore, the offers are seasonal and available on a limited basis – first come, first served.
Offer of the local market
What can you expect to find on this local market? Well, you will find producers who make their products with a lot of love and care! From food to homemade clothing and accessories, there's something for everyone here. At this market you can find dairy products such as semi-hard, soft and creme cheese from cows or sheeps, but also seasonal vegetables from a farmer in Salzburg. The producers offer also homemade things like bread, various cakes and sweets, sausages, bacon, organic eggs, different varieties of organic pasta, schnapps and liqueur in different flavours, elder gin, jams, juice and vinegar.
In addition, there are producers who offer homemade regional specialities, like the so called "Fleischkrapfen", which are fried meat bags with small chopped up meat inside, freshly baked on site at the market. If you don't know it, you have to try it! It is a very traditional dish from the rural regions of Salzburg. In case you don't like meat, you need to try the vegetarian "Kaspressknödel", which are cheese dumplings that you can add to a clear soup, your salad or to a portion of "Sauerkraut" (pickled cabbage). This is also a very typical dish served in Salzburg, especially at mountain huts and traditional restaurants.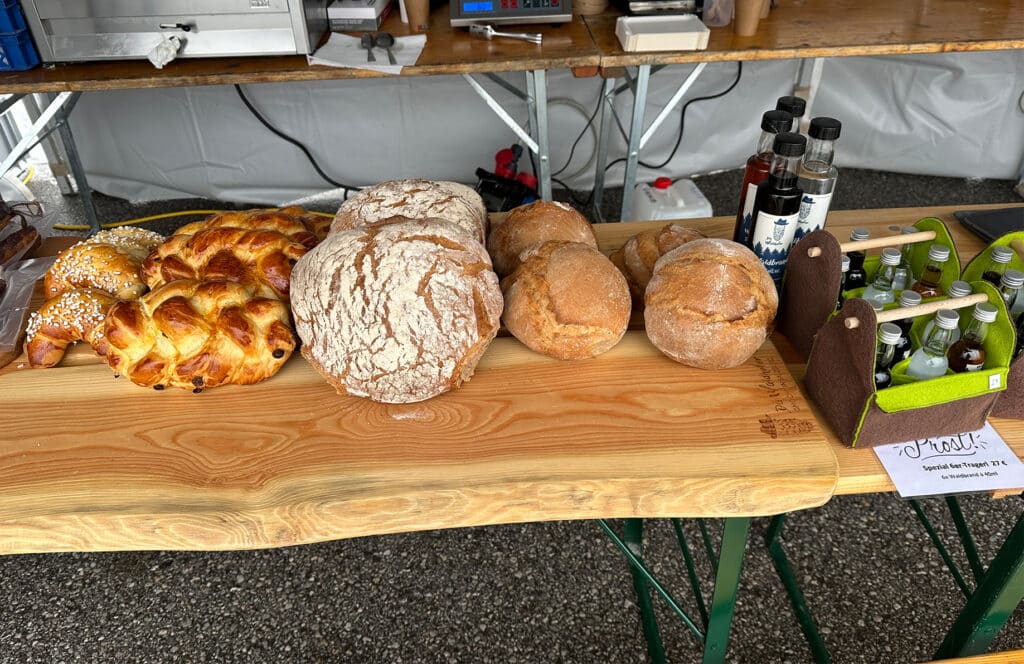 However, there are not only food products at the market. The Tennengauer Wandermarkt offers you a selection of bags, baby and children's clothing, bonnets and headbands for the cold season and many other accessories, everything self-sewn by the producers. Moreover, you can find handcrafted soaps as well as herbal products, such as various oxymels, teas, creams or lip balms. Also, hand-knitted or hand-felted accessories, like socks and hats, are offered. Sometimes you can also watch the producers knitting or spinning wool on site.
If you fancy your very own unique accessory, you can also choose the available fabrics or wool yourself. The producers will then make your desired accessory and arrange a collection date with you. Perfect, if you are looking for a gift to surprise your loved ones, or if you want to give yourself a present.
Where you can find additional information
On Instagram and Facebook, the Tennengauer Wandermarkt posts every week where the market will take place on Saturday and which producers and products will be represented. You can also pick up the biannual flyer with the dates when you visit the market. However, if you are looking for special products and want to meet the producers who offer these products, it is advisable to check the social media channels of the Tennengauer Wandermarkt to see if they will also be there on your planned visit to the market. Because as already said, the offer and the local producers can change depending on the location.
Check out Tennengauer Wandermarkt:
Instagram tennengauerwandermarkt
Facebook Tennengauer Wandermarkt
So if you:
appreciate regionality
want a good price-performance ratio for high-quality products
don't just want to eat the typical student food of pasta with sauce, but want to cook really delicious dishes with regional ingredients
want to buy an accessory that has been handmade with love
… then drop by and buy regional – at the Tennengauer Wandermarkt!
Also check out other markets: