#1. Affordable shopping in Salzburg : Humana vintage store
When moving to Salzburg:
The city if Salzburg has a very unique type of weather. Comparing to Vienna for example, it has more humidity, and it is also located between the mountains. Therefore, the snow and the cold season starts earlier. That means that the cold period is longer throughout the year in Salzburg, than any other cities of Austria. I didn't do any shopping before moving to Salzburg. As an exchange student, I came with only one luggage. I brought one warm jacket with me. Soon, around November, I realised that is was not enough. I needed to do some shopping and find warmer clothes for the season.
Thrift-shopping is the new trend:
Winter clothes are usually more expensive, and they require good quality. When moving to a new city, the expensive just keep adding up. That is why thrift-shopping is such a big help in this situation. Buying from secondhand stores became a huge trend in the last years. Now, people use the term of ''vintage shopping''. It makes it sounds more romantic and cooler, but the meaning is the same. It is a very affordable way to reusing clothes and stay within the budget when buying more clothes.
Humana Second-hand store:
Salzburg as a city has many second-hand shops with a big variety of clothes and shoes. One of my favourite shops is Humana second-hand store. I personally have visited this place many times when I wanted to upgrade my wardrobe. Doesn't matter if I looked for a winter jacket, for new sunglasses or some shirts, I would all find it there. I like it the most because this store resonates a lot with my style. I always found some cloth pieces that were unique, and I could see it has a nice story behind it.
My last purchase was a natural leather shoulder bag for only 25 euros. I always imagine that the person who wore it before me was an anthropologist or an archeologist. This is what feels like when I look at the bag. And it is the same with most of the clothes I buy there.
Affordable prices:
The store has two floors, so it has a big variety of clothes and shoes. When entering, on the left side they always have a hanger with the newest pieces they added for sale. I found an amazing vintage vest for only 19 euros. It reminds me of the vest that my grandfather used to wear. The design and small details of the vest is giving me Christmas vibes for sure, and I felt very cozy in it. I love that vests are coming back into the fashion trends, and I know my grandfather would love to see me waring a vest.
After the first hanger, there is another one in the middle with the biggest discounts. Usually there are pieces for 6 euros each. Therefore, whatever your budget is, you for sure can find something affordable.
Big choice of clothes:
Furthermore, on the first floor, there are different zones of clothes. You can find a full area dedicated to leather jackets, going from warm season to the colder one. For example, as you can see in the picture, one of the jackets I found was from natural leather and it was 75 euros. I would not say its cheap, but for the quality of the jacket, I would say it is worth it.Following the jackets, you can find a lot of pairs of jeans in different colours, as well as different hats and berets.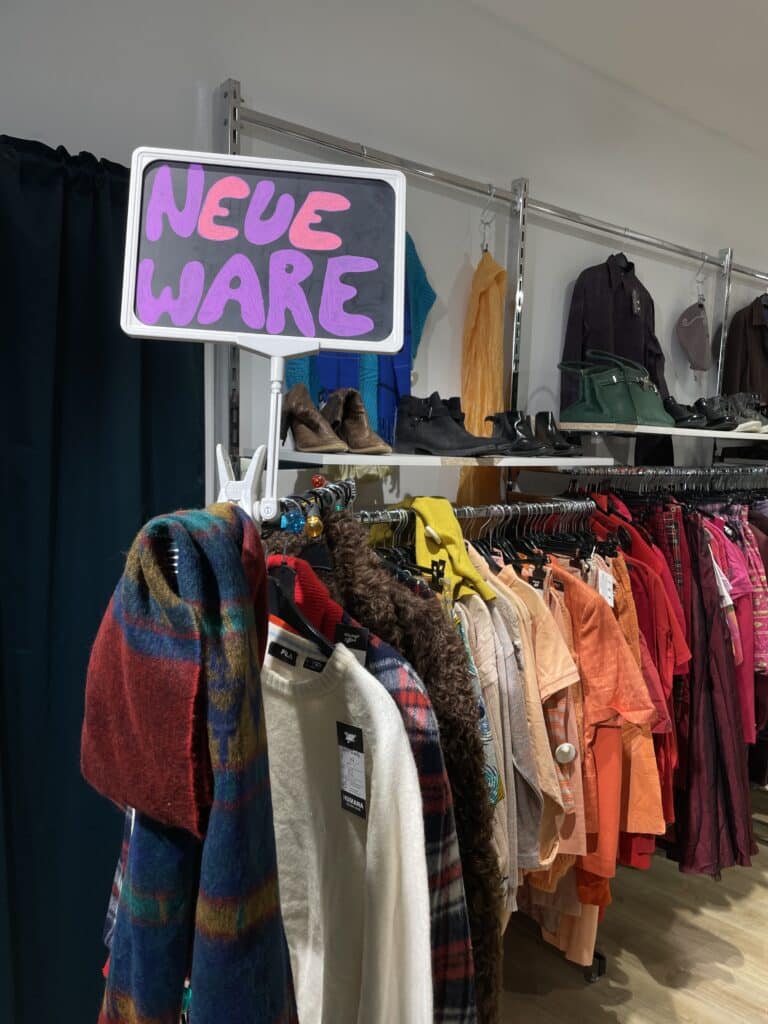 The second floor of the store has the same structure as the first floor. All you need is time and patience because it might take a while to go through all the clothes, but you can definitely find some gems in there. The best part of it, it is all twice times cheaper than in a normal store. But you can be sure that you will not see other people on the street wearing the same jacket as you. All clothes come in one piece, therefore only one person can buy and wear it.
Where it is located:
One of the reasons why I would recommend visiting Humana store is because of it location. It is located on the main pedestrian street of Salzburg, Linzer Gasse 28, on the right side of the river. Starting from the ''Platzl'' square, the street goes on with a lot of boutiques, stores and restaurants along the way. For someone who is in need to buy a lot of things in one shopping day, the location is perfect.
Another reason why I love the street is because it has a lot of exits to go up the stairs and arrive at some of the high-view points of the city. There is an amazing panorama view right above the stores and it is a great chance to enjoy the city in this way.
The store works six days a week, except Sundays. It opens at 9:30 am and closes at 6 pm. On Saturdays, they close earlier, so if you are free on Saturday, make sure you go the store in the first part of the day, because they close at 4:40 pm. The shop is on the right side of the street and they always have some mannequin with the newest clothes that they have on sale, so it is easy to find.