#4. Mobility as a lifestyle
If moving around and discovering new scenes is part of your lifestyle, you arrived at the perfect destination for flexible mobility opportunities. Salzburg is an ideal spot for quickly reaching important locations in Europe; it accommodates Austria's second largest airport with direct flights to popular holiday destinations such as Berlin, Barcelona, Dubai, and Istanbul, as well as seasonal flights to Palma de Mallorca, Antalya, or Corfu. The city is only two and a half hours away from Vienna or Innsbruck and two hours from Munich, with easy accessibility to Bolzano in Italy about 300 km away, Ljubljana (280 km) and Prague (375 km) by train, car, or even bicycle.

Austrian Railways
ÖBB and Westbahn will connect you around Austria and its neighboring countries. On their website you can schedule routes and book your journey within and beyond the borders and there are always special offers which can vary from € 20 to € 200 depending on your destination and how far ahead you plan your trip. Private bus companies such as Flixbus and Eurolines offer cheaper and direct connections to the airports in Munich and Vienna, as well as many European destinations, especially to the south and east. For instance, Bosnia, Serbia, Romania, Prag, and many other Baltic countries are popular destinations for the international students who wish to get the most out of their visa benefits while in Europe. However, journeys of such distances do of course take a long time and might not be very comfortable on a bus, that is why we recomendo you to make sure to be well rested and fed before embarking in this challenging method of transportation.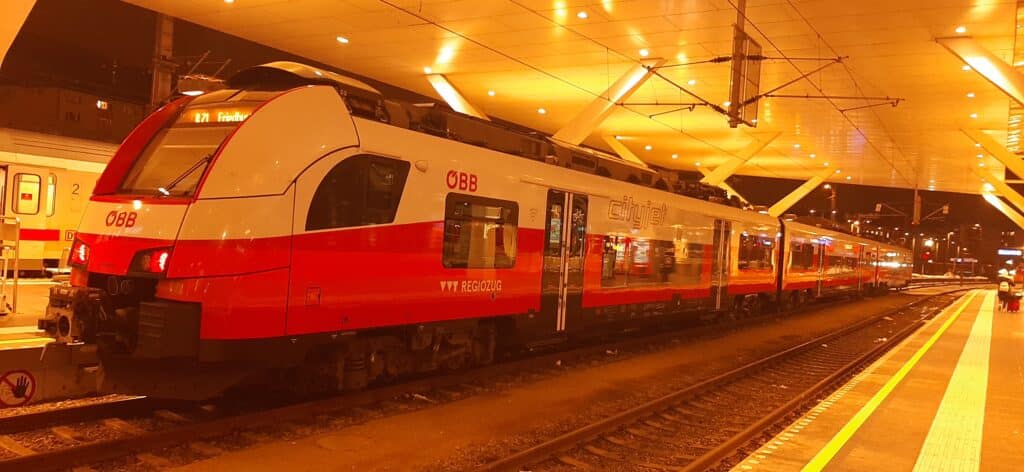 Public transportation system
The public transportation system in the city (the buses from the Obus company are composed of two wagons connected by a flexible rubber. If there is no advertisement, the buses are usually in red) and province ( the buses from the Albus company is one wagon usually in green and white colours when no advertisements are being displayed) is well-structured and reach most destinations in and out Salzburg. Unfortunately, at night, public transportation has been inadequate so far, leaving passengers with very narrow options after midnight. It is recommended to always buy tickets in advance at a Tabak Trafik shop or on the SalzburgMobil App where you can purchase hourly, daily, weekly, and monthly tickets at cheaper prices.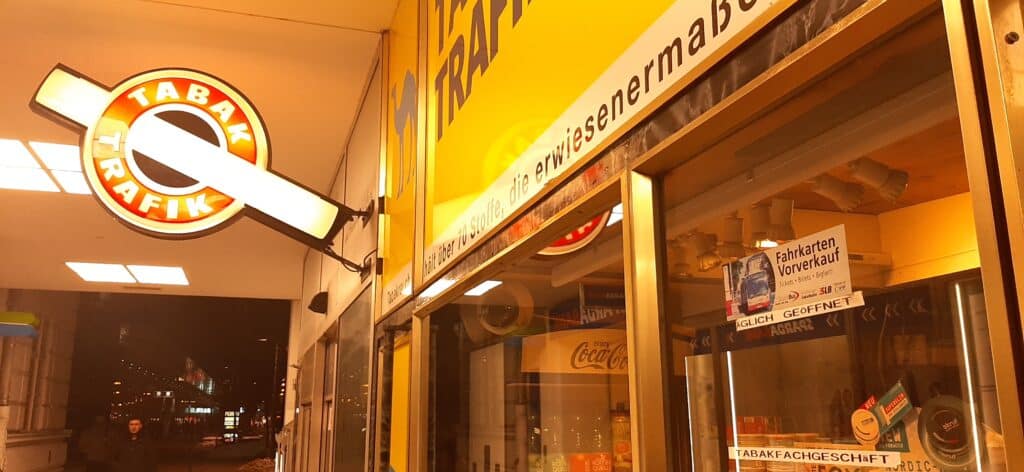 Tickets and purchasing options
A single hour ticket costs € 2.10 at the machines found in most bus stops around the city and € 2.90 if you buy it directly from the driver. By purchasing it in advance, the cheapest you can get for is the "office hours" ticket valid for a single journey with one conection allowed from 9 a.m. to 5 p.m. for only € 1.70. If you just arrived and are not familiar with the tickets options a short journey ticket might be just the right option, however, if accommodation is near the main train station (Hauptbahnhof) we recomend you to take a walk. Routes, timetable, and prices are available online and can be downloaded at www.salzburg-ag.at/bus-bahn/stadtverkehr/obus-albus.html.
At the Service Centre of the Salzburg Regional Transport Association website you can purchase yearly tickets where prices can vary from € 360 to € 1000 depending on card type and especial conditions, such as being a student and/or under 26 years old. Another great option to save some time and money, is to acquire a Klimaticket that enables access to all public transportation througout the state of Salzburg for a whole year. Austrian Railway OBB also offers a Benefit card, which grants discounts for all OBB routes in and out Austria also valid for a year.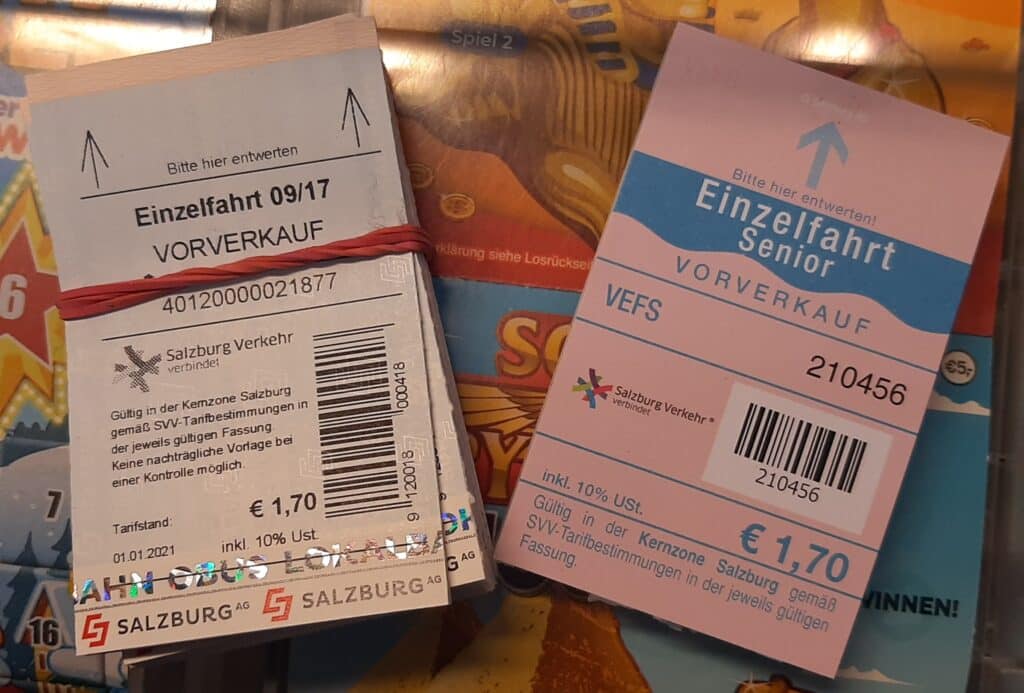 Nightlife
Newly implemented for the late owls, the Night S-Bahn will take you from the party back home safely. On Fridays, Saturdays, Sundays and holidays, the lines S1, S2 and S3 will bring passengers home even at later hours. The last S2 will leave the Salzburg Central Station at 1:34 a.m., one hour later than usual, starting again in the morning one hour earlier, at 04:54 am. The S3 will run more than two hours later than usual, at 1:07am and 2:08am. The first S3 then departs again at 04:11am from Salzburg Central Station. The S1 will run from Monday to Thursday until 0:00am and on the weekends at 1:00am and 2:00am.
Mobile Applications
There is a viriety of mobile applications you can take advantage of in order to keep your lifestyle more flexible. Omio, per example, will offer you the cheapest train connections for your trip; WestBahn is the youngest rail company in Austria, providing interstate options at cheaper prices in comparison with its competitor OBB. FlixBus privides cheap bus connections to destinations around Europe; Bla Bla Car has become very popular among students in Austria by displaying private car-sharing options for very cheap prices. VVTTickets for public transportation in Innbruck and DB (stands for Deutsche Bahn – German train) provides tickets for public transportation in Germany.
A personal recomendation this author wants to give is for the adventures people out there: All Trails is an application that offers a great viriety of hicking and cycling routes around Austria with clear descriptions and offline functions.
Cycling routes
Aside of all previous mobility options, Salzburg has a well-developed network of cycle paths both in the city as well as in the countryside. If you are planning to spend your exchange semester during summer, we do highly recommend exploring the city in the most independent and interactive way, because even if you get lost at first try, you will find yourself where you should be. The route along the Salzsach river will take you across a variety of environments, from the city to parks, farms, woods, lakes and even a surf wave is on the way. More information is available on the mobile application and on the interactive map Radlkarte Salzburg – Die besten Routen für deinen Radalltag.
For a complete guide on how you can enjoy a carefree semester by setting up a new lifestyle in Salzburg, follow our tread about thrifft clothing, second-hand home decor and delicious food .