Are you new in the city, and do you want to cook dishes from home with fresh ingredients? Then, visit the Schranne, one of Salzburg's most delicious food markets!
We all know the feeling of being in a new city, everything is exciting, and there are so many new things to explore. However, once we have settled down and established our daily routine, we start missing home. Especially the food that we are used to. If you want to cook some traditional dishes to miss home a little less or to let your new friends try them, but you need fresh ingredients, then you should visit the Schrannenmarkt in Salzburg.
Interesting facts about the Schranne
What? Bread, fruits, vegetables, meat, cheese, honey, jams, juices, flowers, self-made products
Where? Weekly market around St. Andrew's church close to the Mirabel Garden.
When? Every Thursday from 05:00 to 13:00
The Schrannenmarkt is a food market where local producers sell regional products. It is located around St. Andrew's church, close to the Mirabel Garden, which makes it very easy to reach. Even if you live at the FH Campus, you can take the train to the central station and then use Bus Nr. 3. Usually, it is open only on Thursdays from 5:00 AM to 1:00 PM, but if Thursday is a public holiday, then the Schranne takes place on Wednesday (so always check the calendar 😉).
The history of the Schrannenmarkt
A little historical background about the market: it has more than 100 years of tradition, already in 1906, the first farmers came from around the area and sold their self-made products. Today you can find up to 190 different sellers. The name "Schranne" comes from earlier days when a huge storage depot (in German Schranne) for wheat was located in this area. More information about the history can be found on the official website of the Schranne.
Products to be found at the food market
Bread
There are several producers of bread and other treats. Some focus more on traditional whole wheat bread in big round loaves where you can also buy a little piece of it, while others are the more modern ones offering healthy protein bread or pastries such as cinnamon rolls.


Meat and Eggs
Butchers also play an important role at the market. They offer everything chicken, beef, pork, lamb and so on. Depending on the season, you can also find specialities such as venison. Additionally, they offer eggs that don't look all the same as in the supermarket; some are smaller some are bigger, however, you know that they are coming from some happy animals.


Cheese
If you like cheese, you will love this market. There are several stalls where different kinds of cheese can be found. Some offer goat or sheep milk products, while others provide various types of cow cheese. Also, special ones, for example, with a rind of hay flowers, are available. Yes, they are a little bit more expensive than in the supermarket, but you know exactly where they are coming from, and you can decide how much of them you want since they cut them from the big loaf just for you.


Vegetables and Fruits
At the Schranne, you can also find a variety of vegetable and fruit stands. Most of them are very big and offer products in all colors. So you can find the whole rainbow there, starting from lemons, oranges, berries, eggplant, blueberries, and salads (in various shapes and flavors) all the way to salsify. However, the offer can change depending on the season. You can also get a fresh fruit and vegetable smoothie for an immune boost.


Flowers
You also come across flower stalls which offer flowers in all colors. Adapted to the season, they also offer various arrangements, and before Christmas, you can get an advent wreath which is a very traditional item for the Christmas season in Austria.


Other products
Other products that can be found are juices, jams, honey, pickled vegetables, and self-made products such as woven baskets or birdhouses.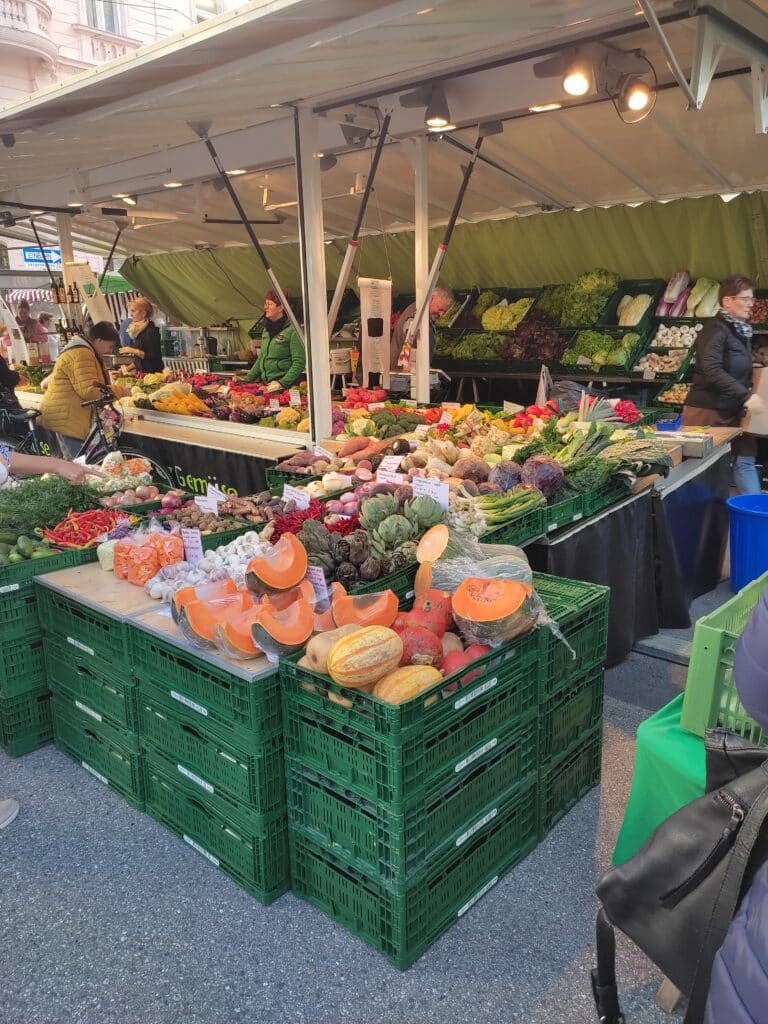 What makes the Schranne so unique?
The specialty of this market is that you can find many locals who go there not only to buy their weekly goods but also to meet their friends and talk to the sellers. A friendly "Hello, how are you?" or a "Hello, the same as every week?" can be heard frequently. However, this market is not only for locals but also for tourists who enjoy trying local things. Furthermore, for some, it is just a place to meet with their friends since one can have a nice "Backhendel", a fish soup or a typical Bosna at the "Würstelstand" while chatting with them.
So, if you want to experience something typical for Salzburg or are looking for fresh local products, go and check out the Schrannenmarkt. And a little secret hint if you are partying on Wednesday, also known as the student night, and it is already 5 am when you are on your way home, you can go and enjoy a wonderful "Backhendel", it works wonders if you want to avoid a hangover 😉
Looking for other food markets? Check out this Blog Posts