#Berchtesgaden trip before global crisis
I am writing this blog post thinking about days before the global crisis which is happening right now due to Covid-19. I have to be honest with you that our generation never experienced such lock downs, fear and worries about ours and as well as other's well-being. However, we all should be positive, and memory is the one motivation that keeps us going.
Exactly about a year ago, after successfully finished my exams me and my girlfriend decided to have a day trip from Salzburg to Berchtesgaden.
A bus from Salzburg to Berchtesgaden costs only about 5,50 Euro per person and driver actually said it will take only about an hour to get there. But actually, we arrived in Berchtesgaden less than 50 minutes from Salzburg.
From Berchtesgaden to Königssee village
Once we arrived in Berchtesgaden, we could take the bus to Königssee which is about 5 min driver and costs 3 Euro per person. However, once we looked at the distance, we decided to walk to the lake. The walk is much more pleasant that a bus drive, and along the river we could see everything.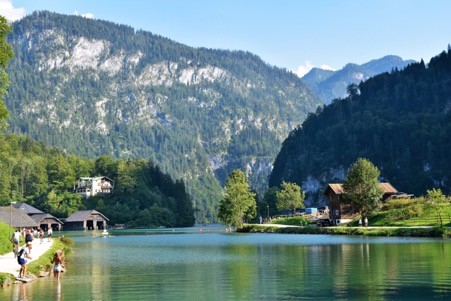 Königssee – King's lake – The most beautiful lake in Germany
In Berchtesgaden, I would suggest you install two mobile apps that will help you to find interesting places to see.
Berchtesgaden app – has a detailed map of all routes for summer, winter and tours and hikes by foot, bike and boat. Also, the app has options to search for apartment, food and sport etc.
Königssee app – this is the app specifically designed for the lake. You can read the lake's history and generally about the lake.
Here is a funny story about lake's origin Königssee's name:
A King was entering the lake as king but left the lake screaming like a princess because of cold water…
St. Bartolomä church and Hirschau peninsula
At the western point of the lake, there is a Hirschau peninsula. To get there, it takes around 30 min with the boat or you can hike a day long through the mountains. There is 13th century church which is still open and few shops and restaurants for tourists. 
A bit about Schönau
Schönau is a tiny village on the lake and you can find anything that you need. There is supermarket, renting services for hiking, tourist shops, restaurants, banks and even cinemas.
There are also houses that preserved since 1380s and as a Mongolian with background of nomadic culture, oldness around Europe has always fascinated me.