On this 3rd edition of Kung Food Pandas we are taking you to Pakistan with us!…ok, maybe not exactly to Pakistan, but the closest here in Salzburg. Welcome to Bella Vita! An Italian/Pakistani fusion restaurant. Now, don't let the name of this restaurant fool you, here you can find the best Pakistani food in Salzburg.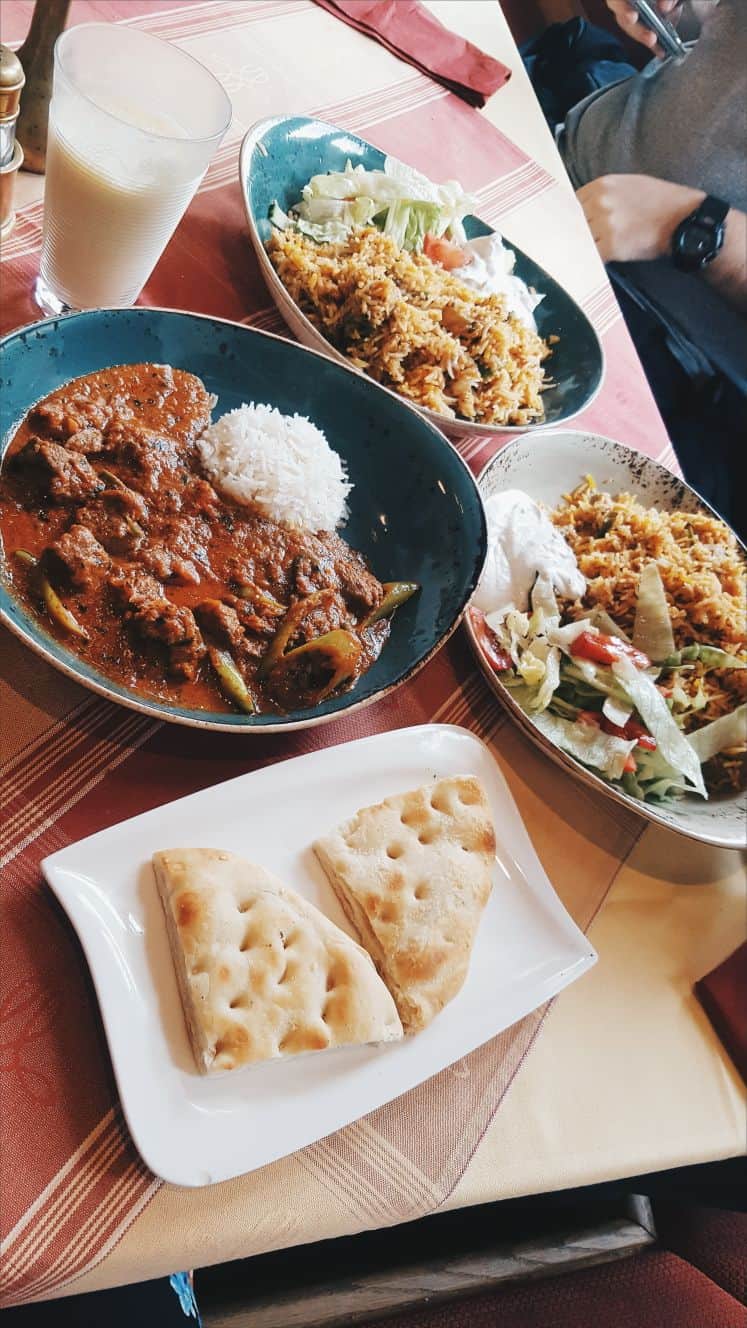 The restaurant is located in Vogelweiderstrasse 9, a very central location near Kapuzinerberg and right underneath the Drei Kreuz Hotel. Arriving there from the FH Salzburg was quite easy, we took the S-bahn and stopped at the Gnigl station, then you can either walk for around 10 minutes or you can also take the bus No. 4 and get off at Grillparzerstrasse, then you will find the restaurant right around the corner. Regarding the opening hours of Bella Vita, the restaurant is open almost every day, except for Wednesdays. On Mondays, Tuesdays and Thursdays it opens from 11:00 to 14:00 and then from 17:30 to 23:00. Then on Fridays and Saturdays only from 17:30 to 23:00, finally, Sundays from 11:30 to 14:30 and from 17:30 to 23:00. On that day we were particularly lucky, we arrived at 13:00 and we didn't know they were about to close in one hour, but it was enough time for us to enjoy the visit.
When we first entered we noticed the particular interiors of the restaurant, they recall a medieval style, but keeping the distribution of it in a comfortable and spacious way. The restaurant was not too busy so the atmosphere was quite calm and quiet. Now regarding to the menu of Bella Vita, it is very diverse and it has 2 parts, the Pakistani, with a wide choice of entrees and soups, as Naan bread, Paratha, Samosas and many more. You can also find vegetarian dishes, as well as Fish, Rice and Meat dishes. In the Italian part of the menu you can find the regular offer than in other similar restaurants in town, Antipasti, Pasta, Pizza, and much more, the overall prices of the restaurant range from 10 to 15 euros.
In this occasion we ordered   Keema Paratha as a starter, Simon ordered a Chicken Biryani, Fionna ordered a Karahi Goash (Tender lamb with a very delicious sauce with spices!) and Catalina ordered a Lamb Biryani. The food came really quick and the portions were very generous, so you definitely get a good value for your money here. At the end of our meal we had the chance to talk to the Chef of the restaurant, he was very nice and charming and just made our overall experience even better!, we could go on and on writing the reasons why this restaurant is so good, but we recommend you to go and try it yourself, if you love Pakistani food or even if this is your first time, Bella Vita is the restaurant to go!