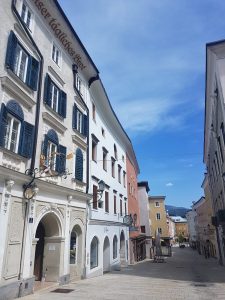 Do you love old, colourful buildings, mountains, museums and other cultural events? – Great! Set up your
camera and get yourself to the Historical city of Hallein in Austria.
Hallein – the second-largest town in the province of Salzburg, next to the Salzach river, is located 15 km
from the province's capital city, Salzburg. Hallein offers more than many people think. Culture,
architecture, museums, restaurants, shops, nature. There are lot to explore. In this post, we will focus on
the attractions of Hallein, especially from student friendly based of view.
The Celtic museum
In Hallein, there is The Celtic Museum, which is famous of being one of the biggest museums for Celtic
history in Europe. You will find a lot of interesting history from this museum, come to experience the
uniqueness of this place in Europe.
Prices: Adult – 7,50 €
Young under 27 years – 2,50 €
ALTSADT
Hallein old city called ALTSTADT is full of beautiful old architecture, corner after corner. Your camera is
going to be full of pictures of them. ALTSTADT in Hallein is like a mini Salzburg, houses look as beautiful and
the feeling is same as in Salzburg's old city. In Hallein ALTSTADT you find lovely shops and boutiques, good
restaurants and great atmosphere.
Cultural Events
Whether you are more a fan of classical music, folk or modern events: Hallein can offer diverse program of
concerts, cabaret, theatre, festivals, exhibitions and so much more throughout the year. There are
exhibitions of international and local artist regularly held in several galleries of Hallein.
The Summer Toboggan Run – Fun Experience
Fun and excitement Keltenblitz with its 2.2 km, is Salzburg's longest and probably most spectacular
toboggan run – so it's a perfect destination for the whole family! This location can be reached by car or
public transport from Salzburg or Hallein. Also, from Hallein you can hike to Bad Dürrnberg via the
Raingrabenweg or the Knappensteig.
Prices: Adults;
Ascent chair lift 7,60 €
Descent chair lift 6,00 €
Ascent/descent chair lift 9,50 €
Descent toboggan slide 7,50 €
Ascent chair lift and descent toboggan slide 11,50€
The Salt Mine Hallein
There is a historical salt mine in Hallein, which attracts several visitors around Austria and around the
World. You can join on an exciting journey for the whole family. Deep into the Dürrnberg, miners have
been hauling treasures out into the daylight over 2500 years ago. The Salt Mine in Hallein is the first salt
mine in history, which opened its tunnels to the public. Visitors have been entering the Hallein Salt Mine
for some 450 years.
Prices: Adults – 21 €
Student (with ID) – 19 €