Every student knows the feeling of deciding between going out to enjoy a lovely spring or summer day in the sun or to stay inside and study. At this amazing rooftop you never ever have to choose on over the other anymore.
Our third location which we discovered as one of the best places to combine studying, sunbathing and drinking delicious coffee is called "UnikumSky" and is situated on the roof of the university building in Nonntal. The coffeehouse convinces with its breath-taking view over the whole Nonntal and to the fortress.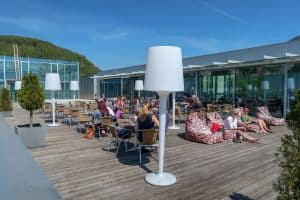 In the beginning it was relatively hard for us to find the entrance to be honest, but after walking around the building we finally found out that you have to take the main entrance of the university to take the elevator up to the very top. As soon as you leave the glass building (which can be seen on the picture above on the left side) the stunning view of the surrounding reveals its beauty. We took a seat outside on the sunny terrace and where just completely amazed by the unique 360 degrees view out there.
They have 40 seats on the inside (which is the building on the right on the picture above) and 60 seats on the terrace. Their menu offers a great variety of warm and cold drinks, alcoholic and non-alcoholic, as well as some warm snacks. Furthermore, they provide daily cakes to the guests and you can enjoy a simple savoury or sweet breakfast every day until 14:00.
We ordered three different drinks to test some of their beverages. Csilla decided to go for an organic hot chocolate from "Zotter", Jenn took a soya latte macchiato and I ordered a simple cappuccino. We were all really satisfied with our hot beverages and especially happy about the prices of Unikumsky. So far, they are the ones with the most reasonable prices of all locations that we went to, but still offer their guests the same good quality of drinks as their competitors. The waiters were are extremely friendly and served us within a few minutes
There is even an option to enjoy the rooftop terrace without spending any money! Right next to the café there is a wooden platform with two levels, surrounded by small trees and the probably closest view that you can get from the fortress. It does not belong to the café and can therefore be used independently from whether you order something or not. After we paid and finished our drinks, we moved with all our stuff from the table to this area and spent the rest of the wonderful sunny day there, studying and having a good time in Salzburg.
Hard Facts:
Opening hours:      Mon – Fri  10:00-19:00
Sat                         10:00-18:00
Address:                Erzabt Klotz Straße 1
Prices:                   €