Right lads now, time to get real. As an employee of this bar, I will try my utmost not to be too biased, but in general, The Dubliner is an all round perfect chill, have some fish and chips and a Guinness kind of bar if you know what I mean…
On the perfect Saturday or Sunday afternoon, the garden is open with a perky atmosphere and a usually a bit of sun. Ken the owner and Fabio head barman will always greet you with a warm hello and toast. Their hospitality is known to the locals of the city, and they genuinely make us Irish feel like we're right back home.
When we arrived the evening of our pub crawl, one of the football games was on and the atmosphere was insane. Unfortunately, you'll have to come early on nights like this one to get a seat as the regulars are always perched up against the taps watching the game in a constant round of beers.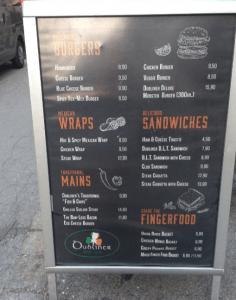 The bar not only has a wide variety of drinks available, they have a nice long food menu to accompany those long evenings spent there. From a steak to wraps or just finger food, you'll never be left without an option.
In terms of Guinness, I'll be honest and give it an 8/10. The good ole lads in Celtic went and outdid themselves with that one.