Hi everyone! 🙂
In our fourth and final blogpost, we will tell you about our general experience of the topic we have been covering in this course. During the last six weeks our group has been exploring the nightlife that Salzburg offers for students on Wednesdays. Going out on Wednesdays has become a lot more popular during the last years, and many bars have also recognized that and customized their price-lists according to it. Unfortunately, we were not able to visit all the bars that we wanted to visit due to the tight schedule, but we still managed to visit quite many.  
In case you haven't noticed it yet on our previous blogposts or on the other Social Media platforms, we have been rating every bar according to our 1-5 shot scale. Here under you can find a complete list of all the bars we visited and how many shots each bar scored!  
Shamrock 3,5/5 
O'Malley's 3,5/5 
Sega Bar  4,5/5 
The Cube 2,5/5 
City Alm  4,5/5 
Watzmann  3,5/5 
Celtic Spirit  2,5/5 
Havana  4/5 
Beffa Bar  3,5/5 
The Alchemist  3,5/5 
 Pyjama Party at Campus Urstein  5/5
We were welcomed with open arms and friendly greetings and most of the bars offered us some free drinks, shots or special offers, which of course made our experience of that specific bar much greater. We had a lot of fun during the evenings we went out and we met a lot of interesting people behind the bars that were happy to share their information and offers with us.
The main obstacle that we had were getting in contact with the bars in the first place. We contacted about 20 bars beforehand in order to let them know that we were coming, but unfortunately only 3-5 answered, which was a big disappointment. We were expecting them to be more interested in showing us what they offer since we after all would write about it on our Social Medias. However, it has been a great experience and at least we found some places that we really liked. 😉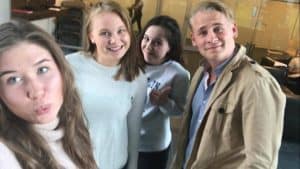 We hope that all of you have enjoyed following us through our experiences with the topic Student Wednesdays, and that you hopefully have found a new hang out place for Wednesday evenings that meet your needs and wallet! 😉
BR,
Team SW – A group of Incomings ♥