Asian food heaven in Salzburg does exist!
You might have even passed it, the equally central and hidden spot we want to introduce you to. In one of the passages from Getreidegasse to Hanuschplatz you find it; Kim 168 – Salzburg's very own Asian food heaven.
When you enter the tiny restaurant, you're standing right in front of the counter which is also the kitchen. Sometimes, there will be two people, Jin Kim and his wife, and at other times only him. The narrow seating area is shaped like a bar counter and offers around 6 seats. This is only suitable for only for non-shy people, to be fair, however, there are some standing tables outside for those who appreciate their private space. Orders are taken at the counter/kitchen and all freshly prepared. While waiting for the food, you must be aware that there is only one person cooking and the dishes will not all come at the same time. But however long you will be waiting, you won't regret a single second, every bite is worth it!
The menu contains Korean, Thai and Japanese dishes. Having tried quite a few items from the menu (and by that, I mean MANY), we can almost guarantee that you can't really go wrong. We still want to provide you with some insights from our own experience though.
The Korean part:
Knowing that Jin originally comes from Korea, it is no surprise that the Korean part of the menu is a safe choice to go to. A real highlight is the Korean national dish, the Bibimbab. It consists of sticky rice, marinated cooked minced beef, vegetables, a fried egg, and comes with a hot chili sauce that can be mixed with the rest according to one's own taste. The dish comes in a hot stone bowl with a small candle underneath, so the partly raw ingredients get cooked a bit and the content doesn't cool down. Regarding the taste; get ready for an explosion of taste in your mouth! If you have never had Korean food before, it might be a strange, but always good, new taste for you. Considering the portion size, the price of 9,50€ is nothing to complain about either.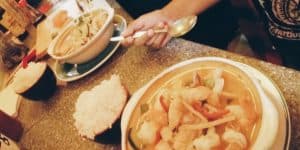 The Thai Part:
Order any Thai curry from the menu and you will know what heaven tastes like. Seriously, all of them are great, but we want to focus on the king of curries; the king prawn curry. This miracle of taste comes either with or without rice, but knowing about the level of spiciness, we would recommend taking the rice, and it only comes to a price difference of 80 cents as well. The king prawns come in the shell. This might seem like a lot of effort, but it really contributes to the great taste and is, therefore, a small price to pay for curry-heaven. The price of the curry including a portion of rice comes to 12,80€ and we are happy to pay every cent for this greatness of Thai cuisine.
The Japanese part:
Sushi is quite THE food trend of the generation of Millennials. Haven't tried it yet? Then you're the exception and will most probably not get around trying it at least once and chances are; you will love it! Finding really good sushi in Salzburg is a challenge, Kim 186 however, makes is a lot easier. The decent choice of different sushi is freshly and lovingly prepared by Jin, right on demand. The variety of fish is limited to the classics, but they are the best anyway 😉 Prices of the sushi are really reasonable. This does not influence the quality and the taste which is exceptional for Salzburg; the ratio of fish on the nigiri is very good as well. Our advice: try it – taste it – love it!
Our resume of our visit at Kim 168 is that you can specialize in various cousins and still be a master of each single one. The charm of the tiny restaurant, combined with an always-happy cook and the most delicious Asian Food, makes this a true secret treasure of Salzburg. Come find out yourself at Kim 168 at Getreidegasse 14!