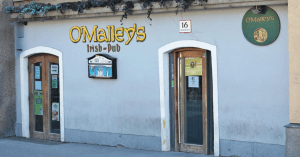 The Objective: To determine what is the greatest representative of Irish bars in Salzburg.
The Team: Cathal (Me), Meghan, Ailise, Shannon
The method: Enter the bar, buy a drink and enjoy that drink and buy another.
Welcome to my interpretation of Irish bars in Salzburg. This is going to be from the perspective of a single, 23-year-old Irish guy with a tiny budget and big dreams.
So, the aim of the game is to findthe best place to have a drink based on what you are looking for! If you're an extroverted, singer or dancer (or at least think you are) you might have a more appropriate "local" for you than someone who lacks all the skills of a fun person on a night out -#mylife.
For the lads out there, if you are looking to find some nice girls or guys, the place I'd recommend firstly is 'O'Malleys'! It has the most college students per capita of any bar we visited, and unless you have some other preference, this is the place to head for. Great karaoke, numerous rooms both smoking and non-smoking, and a range of noise levels to communicate in whatever way you want.
O'Malley's is located right on the Salzach on Rudolskai, which is only a 15-minute walk from the closest train station or 8 minutes 53 seconds if you're running for the last train home. They play all kinds of sports on the screens here but beware their tv's are from 2003 so they can be a little bit hard to watch. They serve a wide range of drinks from beers to whiskeys to long drinks. Usually we just say "cheapest you got please" and they get it just right every time! The staff here are very friendly here and service is quite fast.
Now for the best bit, on Thursday's O'Malley's hosts a Karaoke night. Now a little advice, if you want to sing get there early as the request book fills up quickly and choose wisely, sometimes there's a tough crowd! This bar is open every day from 8 pm until 12 am and 4 am on Friday and Saturday. We have decided to rate this pub as the best student bar to go to for a bit of fun, dancing, and singing. Just in case this doesn't live up to expectations you can always pop next door to The Shamrock which is attacked to O'Malley's.
If you have any brainpower after visiting, I'm sure you will have noticed how great of a place it is to head for drinks before clubs, entirely because of the prolific set of tunes on at any one time, with that volume turned all the way up!
Overall: Great atmosphere, good drinks, fun bar