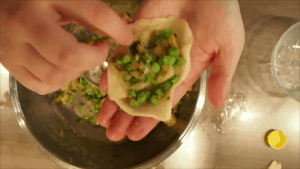 Namaste Foodies,
My name is Samosa. I am from India – a nation of foodies. Since it's a subcontinent of Asia the Chopsticks love me like Ebiyaki! Maybe more.. I don't want to judge 😀
I have travelled more than a thousand miles to come from the Middle East over Central Asia to India more than 600 years ago. I used to be a fine pastry with minced meat and nuts and dry fruits but as the continent developed I did so too. These days I often filled with potatoes and peas. I think I may claim to be the first fast food and the first street food 😀 Usually I'm fried but my Chopstick creator has chosen a little less fatty and messy way to bring me crispy on the plate – oven baked.
Here is what you need to make me and my fellas from scratch:
Dough – so simple! :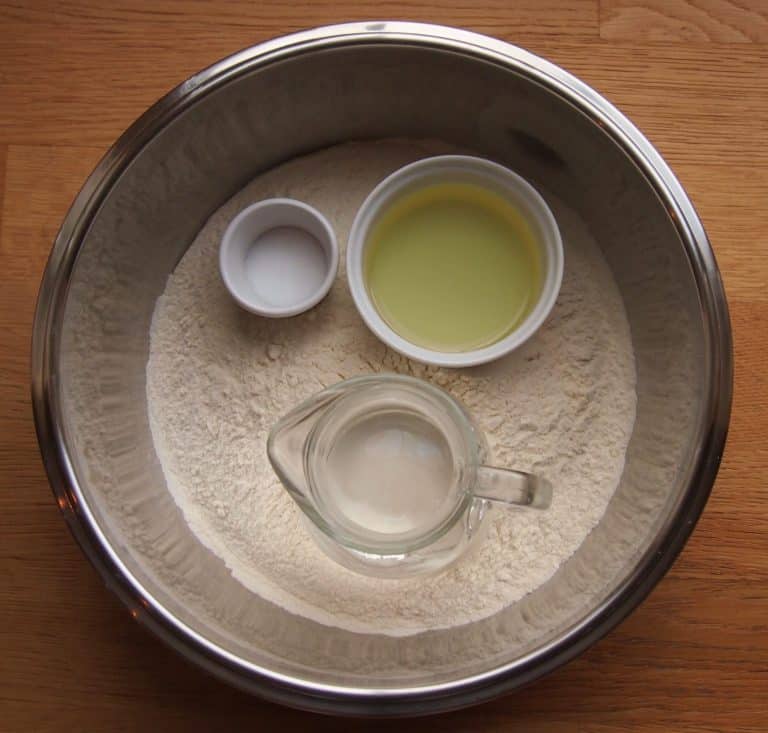 Flour  – 2 cups / 250 g

Salt    – 3/4 Tsp.

Oil      – 4 Tbsp.

Water – 5 Tbsp.
The Filling (ok, that requires some more ingredients…):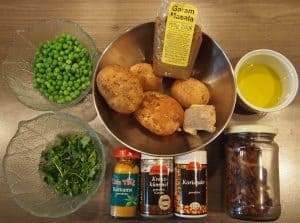 Potatoes              ca. 1 1/2 cups /300g

Peas                    1 cup / 150g (deep frozen)

fresh coriander     1/2 cup / 30g

Tumeric                 1 Tsp.

Cumin                   1/2 Tsp.

ground Coriander 1/2 Tsp.

Chili                      1/4 Tsp.

Garam Masala     1/2 Tsp.

Ginger                  1/2 cm grated

Olive Oil                         2 Tbsp.

Vegetable Oil   (to grease the finished Samosas)

(plain Joghurt, mint and fresh coriander for a dip)
What to do:
First prepare the dough because it has to rest anyway and you can use the resting time to prepare the filling.
Dough: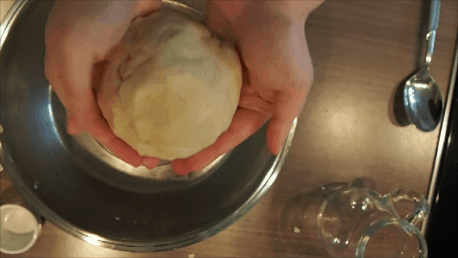 Stir the salt into the flour. Rub the oil (alternatively you can also use Ghee (clarified butter)). Then add 2 Tbsp. of water and add more as you knead. Knead, knead knead for around 5 minutes until you have a smooth dough. Then it's resting time, not for you but for your dough 😉 Wrap it in a moistened towel and set aside for at least 30 minutes.
Filling: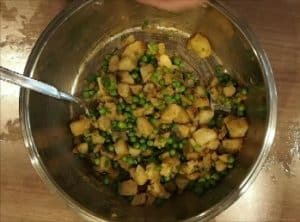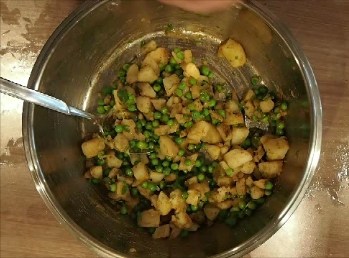 I advise to use deep frozen peas instead of canned because they are tastier and fresher. If you take the frozen ones, boil them first for ca. 5 minutes and chill them right after with cold water.
Also boil the potatoes and set them aside to cool down a bit. Dice the potatoes finely (ca. 1/2 cm x 1/2 cubes).
Mix all the ingredients for the filling together. 
Now get the dough (if it has been 30 minutes already). Make small balls (ca. 2.5cm diameter) and role it until it's a flat circle. Place the flat piece of dough in your hand. Take a tablespoon of the filling and place it in the middle of the dough circle. Take the edge at one point and fold it to the middle of the filling, take a point opposite from the first and also bring it to the middle so it is slightly overlapping with the other side that's in the middle, fold in the bottom. Try to pinch it all together so you get the familiar triangle shape (if it doesn't exactly look like a triangle, it will still be delicious, just make sure it's closed). Describing the folding is difficult just watch the video on YouTube.
Now instead of frying and greasing and smelling up your whole kitchen and yourself you bake the Samosas in the oven!
Grease the Samosas (vegetable oil) and place them on a baking tray with baking sheet underneath. Bake for about 10 minutes until golden brown. You can serve it with joghurt-mint sauce. When there is no fresh mint available get a glass of "Colman's Classic Mint Sauce" (at Asian supermarket) it is fresh mint chopped up finely preserved in oil just take a teaspoon or two (not too much it is very strong, don't just eat a teaspoon of it! It's so fresh it will blow you mind aways! xD) and stir it in 4 Tbsp. of yoghurt. Chop up some more coriander if you like to garnish.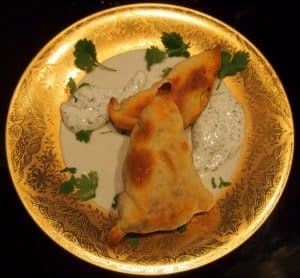 lidschiye! (=Help yourself in hindi)
So, I hope you liked me and my friends!
Signing off,
Your Samosa (on the behalf of the Chopsticks)