We all know that Salzburg is an incomparably beautiful and fascinating city, which offers tons of amazing experiences for visitors and residents alike. However, its rich cultural heritage has been attracting ever-increasing numbers of tourists and the old town can occasionally become very packed, especially in summer. We are well-aware that these crowds of people can be pretty annoying to anyone staying in the city for more than just a short holiday. Therefore we started "Escape The City", a project that can help exchange students, residents or any interested visitors to find great day-trips in the surroundings of Salzburg.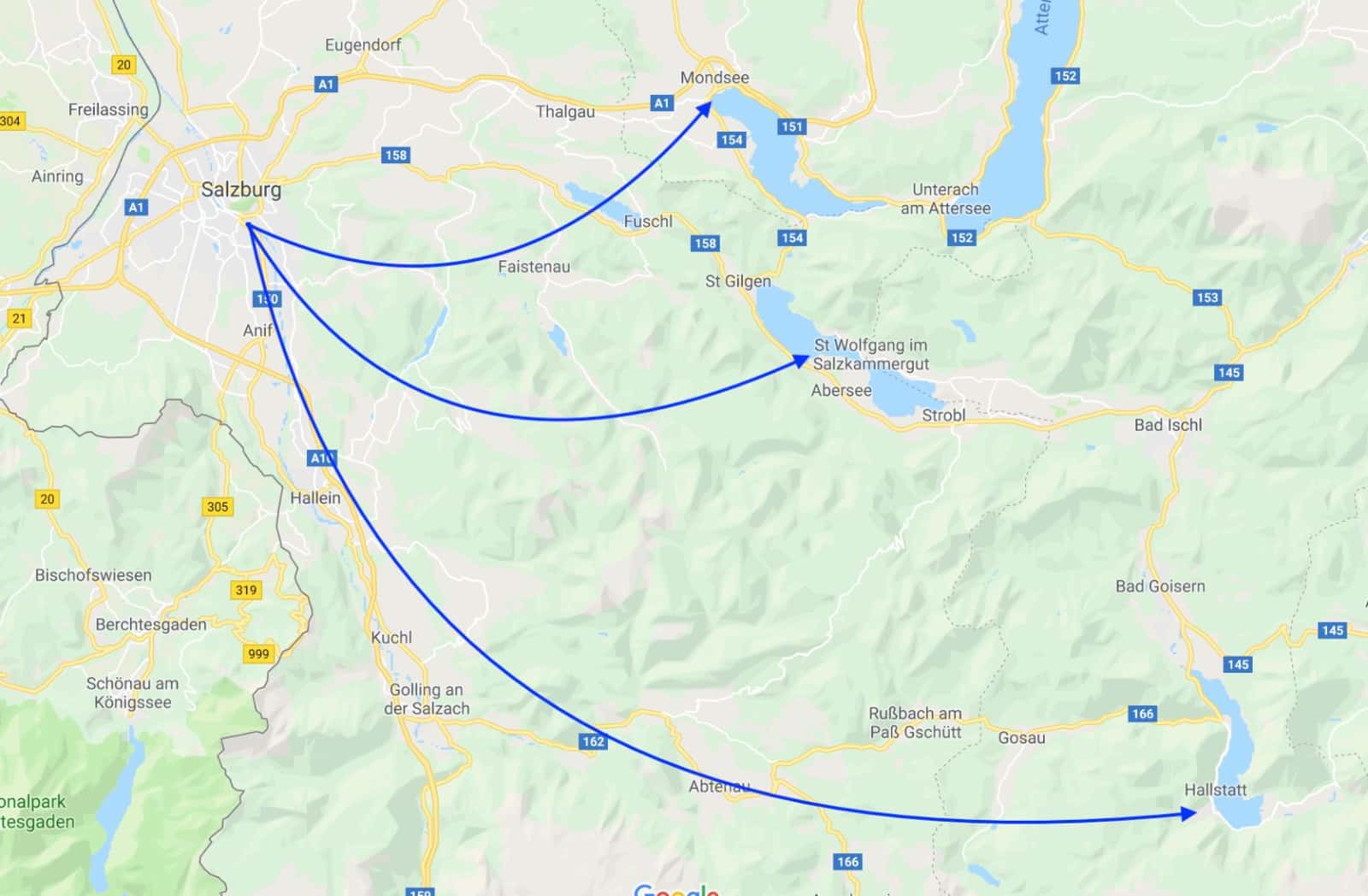 For our excursions, we chose the Salzkammergut region, which is internationally renowned for its beautiful blue lakes, rich green pastures and towering mountain peaks. Located just a few miles east of Salzburg, it is easily accessible by car or public transportation in less than 1 hour. The area itself offers a large variety of natural activities, for example boating, sailing, swimming, water-skiing, hiking, mountain-biking, paragliding and many more. Additionally, the local towns welcome visitors with a diverse cultural program, an interesting history and enchanting architecture.
The first town on our list is Hallstatt, the dream of any influencer, photographer and about 1 billion Asians. Indeed, if you look to get away from the crowds, this might not be your first choice, yet this charming little village did not get its reputation for nothing. Actually, Hallstatt is far more than just the setting for your next Instagram picture, it is a full-fledged destination offering some exquisite local restaurants, a long history, some curiosities (you must visit the "Beinhaus") and many nearby attractions, such as the local salt mines and the Dachstein massive, which is well-known for its glacier, its caves, ice caves, as well as its impressive views.
Our second location was Sankt Wolfgang. Situated in the midst of lush forest, right at the shores of Lake Wolfgang, this town catches the traveler's eye already from afar. While in winter, it is famous for its magical Christmas market, in summer tourists flock to this spot to relax, reconnect to nature or just refresh themselves in the crystal-clear waters at its beaches. Dominating the panorama is the Schafberg. At 1782 meters at its peak, the mountain makes for a great, though exhausting hike, or a comfortable, yet expensive ride in the antique funicular, starting right in the town of Sankt Wolfgang. For whatever option visitors choose, unforgettable sunsets are included and free of charge.
Our last stop was Mondsee. Unlike the other lakeside-towns, it is located at the edge of the mountains and not within. This makes for a varied scenery with rugged cliffs to the south and rolling hills to the north. Thanks to the mild waters of its lake, Mondsee is the perfect spot for aquatic activities, while the gentle landscape attracts bikers and hikers alike. However, the special treat of this place is its cathedral. Any fan of "The Sound of Music" out there? Well, who did see the movie and has not been dreaming of a fairytale-wedding in this famous church ever since? Well you might not get married there, but you sure will have the chance to visit this iconic monument firsthand!
In the following posts, we will go further into detail about all the locations and the experiences we made during our trips. I promise you as much: it was definitely fun! Check out our video here: