The four of us here at team Gettin' Cheesy waltzed into L'Osteria on a dreary Monday night at around 7 p.m. The warm, doughy interior of the Italian chain restaurant gave welcome contrast to the cold, rainy Salzburg evening outside. We were immediately greeted by a server at the door asking us if we had a reservation. Since the restaurant was surprisingly busy for a Monday night, and we had not had the forethought to make said reservation, we were directed to the bar to wait for a table to open.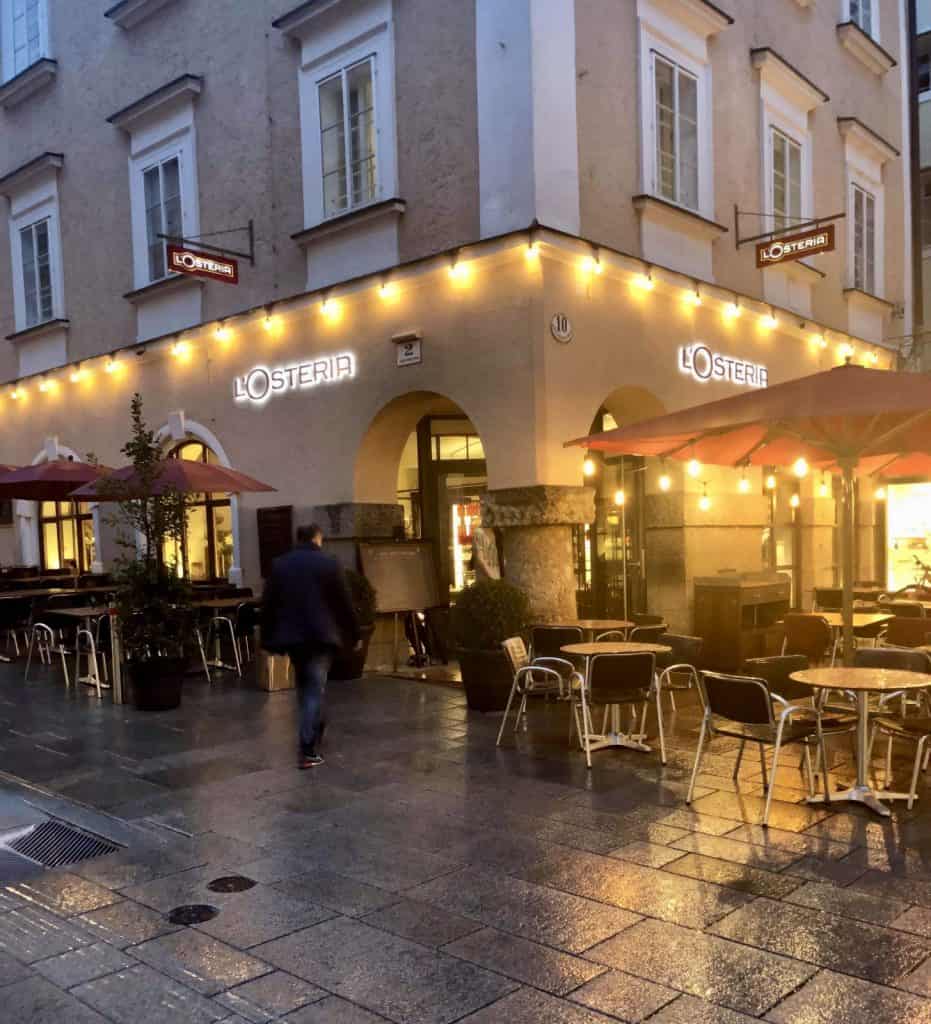 After ten to fifteen minutes, another server approached us to let us know our table was ready. We were led to one of the back rooms of the restaurant to our table giving us a chance to appreciate the truly massive space. L'Osteria has multiple dining rooms all with substantial seating making it the perfect venue for a large celebratory dinner, though I would recommend calling ahead to ensure a table.
Upon being seated our drink and food orders were taken promptly and the waiting began. Now, the fact to be aware of with L'Osteria pizzas is that they are not subtle of size. There is only one size available and it is a massive one. It is possible to order only half of the pizza, however, this is no where to be seen on the menu. I would suggest making this option more visible for those with daintier appetites.
However, we were all starving after a long day of classes, and we had a hunger that only sweet pizza could cure. My American sensibilities for zero portion control delighted when after twenty minutes our larger than the plates they are served on pizzas were delivered to the table.
I am a girl who loves some buffalo mozzarella so I pounced on the chance to get the Caprese Pizza. The menu description said mozzarella, basil, and fresh cherry tomatoes and I was sold. My cheesy fantasy was somewhat dimmed however when my pizza arrived and I discovered that the Caprese Pizza was not made exclusively with the listed ingredients but was really just a classic Margarita Pizza with some cold mozzarella slices thrown on top like an afterthought. I persisted through my disappointment and managed to eat a solid half of my pie. Though, not what I expected, it was tasty and perfectly adequate. The rest of my Getting' Cheesy compatriots echoed my sentiments of average satisfaction. Dan struggled the most with his pizza since the dough base seemed to be nonexistent which made for a rather strenuous eating experience.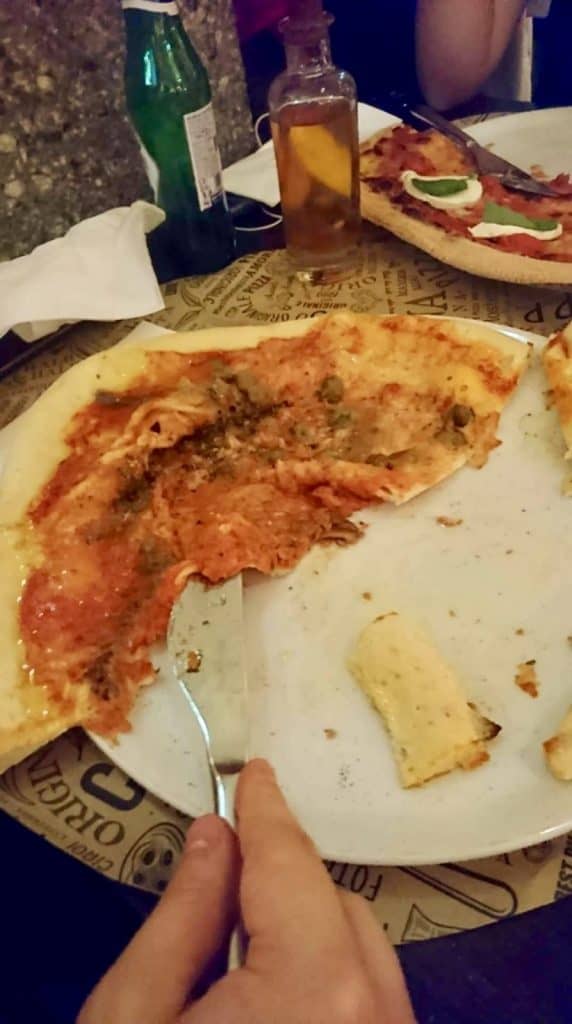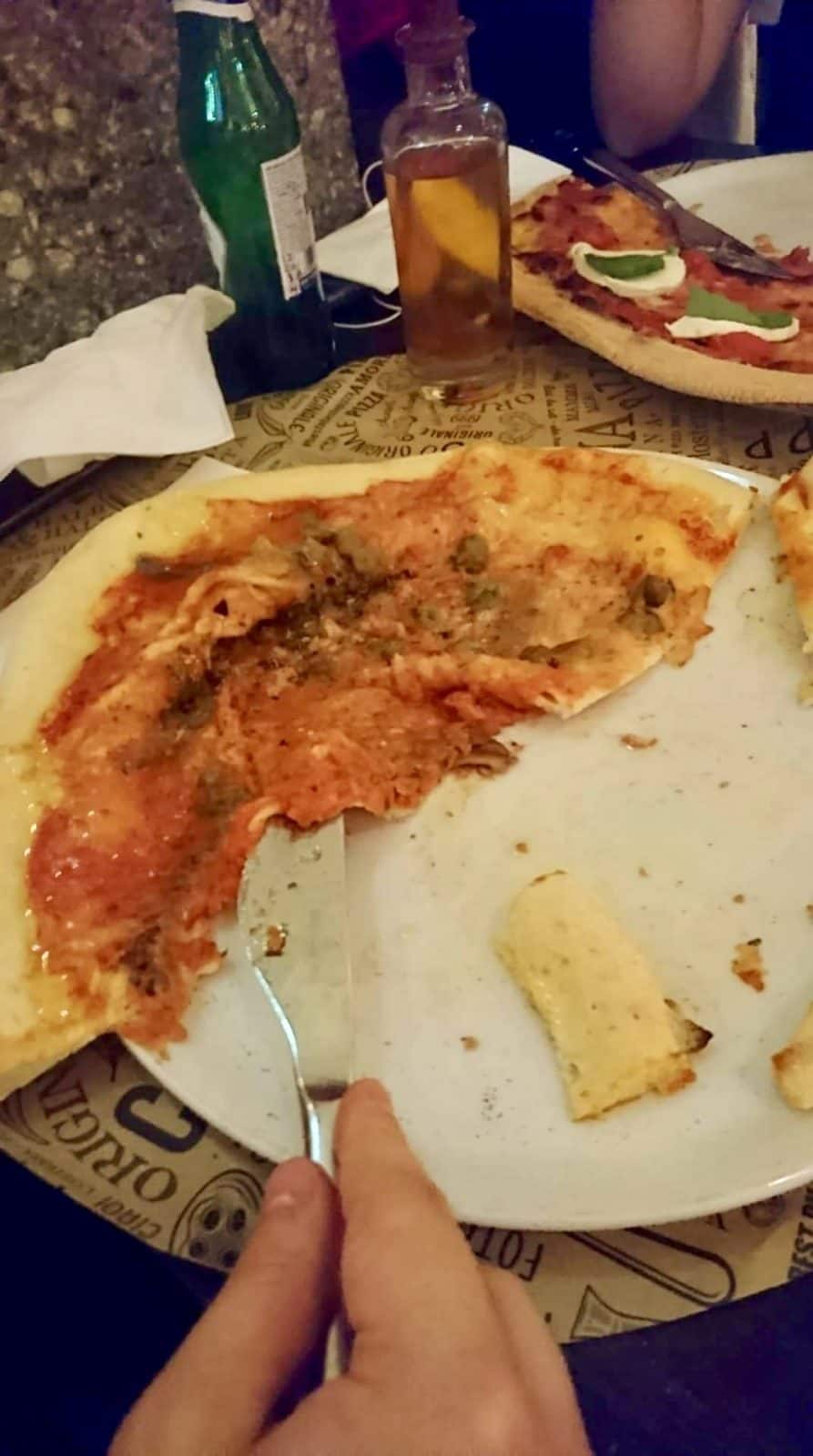 Overall, L'Osteria is perfectly fine. It did not wow me or leave me wishing for more (with sizes like that how could I?). However, L'Osteria presents an appealing option for a hungry night out in the Salzburg city center at a reasonable price point.
Taste: 3.5/5
Location: 5/5
Service: 3/5
Price: 3/5
Address: Dreifaltigkeitsgasse 10, 5020 Salzburg
Price: 9-20 Euros
Hours: Mon-Sun 11am-12am
For more on our L'Osteria experience and other pizza adventures check out our YouTube account: https://youtu.be/yYlFAfPRKiE