"Have you heard? There's a restaurant in Salzburg that serves healthy fast food that's also supposed to taste delicious. And the best part is that they are offering many vegan dishes, which is amazing!"
When my friend Sofi approached me with this information last week, we did not think twice and immediately had to stop by this restaurant that is called "FIT. smartfood" in Maxglan in the city of Salzburg. All we can say is that we were both blown away by the restaurant, the food, the staff and the whole ambience. It is the perfect place to spend time with your loved ones and to do something good for your body at the same time.
If you are now interested and want to know more about this restaurant, then you should read on.
However, if you are already convinced of this restaurant, then visit the homepage under this link right away and reserve a table for the next occasion. Believe me, it pays off!
Healthy food = not yummy delicious food
Many people believe that healthy or vegan food cannot be tasty or even replace, for instance, a greasy burger with beef patties, different kinds of sauces and fatty fries. But the FIT.smartfood restaurant proves the opposite: Healthy and vegan food taste simply delicious. With their manageable menu that has a great offer for vegans and meat lovers, you can order great burgers, wraps, bowls and something sweet without feeling guilty that you're eating unhealthy food. That's exactly the great thing about this restaurant, it's healthy and tastes amazing at the same time.
What makes their food healthy?
When you read the menu of this restaurant for the first time, you can't imagine that these dishes are healthy or even vegan, and if they are, that they taste good as well. As a meat lover, I couldn't imagine that either until the moment I ate the first bite of my vegan healthy dish. I was so thrilled by its taste that I had to ask how it was possible that those dishes could be healthy and tasty at the same time? Chris and Bobo, the owners of the restaurants, explained that the dishes were generally prepared with very little fat and contained almost no sugar. For instance, their homemade protein ice cream contains around 50% less sugar than normal ice cream.
Furthermore, the bagels and burger buns are baked in their own bakery from high–quality cereals and according to their own recipe. And of course, the most important ingredient is love. Chris and Bobo and their team love what they do and are passionate about it and this love is reflected in their dishes as well. In addition, FIT.smartfood's food is not only healthy for us humans, but also for our environment. This is because all their packaging for the "Take Away" consists only of degradable materials. Amazing, isn't it?
Soul-Food
When Sofi and I visited FIT.smartfood, we both ordered vegan dishes because we were just so curious about the taste. So, we had the vegan Thai coconut lemongrass soup as a starter, the vegan Thai mango burger and the vegan greek wrap 2.0 with sweet potato fries and a vegan sour cream sauce as the main course, and for dessert, we shared the Vegan Apple Pudding.
Starting with the soup, the combination of the spiciness of the chilli and the cooling taste of the lemongrass harmonized very well together. To get a better idea of the excellent taste of the soup, I quote my friend Sofi, who said that she cannot remember the last time she ate such a good soup. A chef could not ask for better praise, could he?
Moving on to the main courses. When the vegan Thai mango burger arrived at our table, we thought "uhh, it looks very healthy with the grain bread and the red cabbage. Probably, it will taste very try and monotonous." But we were wrong. This burger with its veggie patty, refreshing mango sauce and crunchy red cabbage tasted incredible and proves that vegan cuisine can taste great. You don't always need meat and lots of fat to make something delicious. The same goes for the vegan wrap with the vegan feta cheese and the crispy falafel – no need for meat.
Our personal highlight of the menu was the vegan sour cream sauce, which was ordered with the sweet potato fries – simply mouth-watering. Although we were about to burst, we treated ourselves to the vegan apple pudding for dessert. To get a better idea of this apple pudding, imagine your grandma is cooking an apple mousse for you from freshly harvested apples from the garden with lots of love. And that's exactly how this pudding tasted, the only difference being that it wasn't made by my grandma. 😀 To sum up our evening menu in three words: It was delicious.
Eye-catching environment
It's not just the food that speaks for the restaurant, the restaurant itself is also eye-catching. It is modern, colourful and creatively furnished, but still very cosy. What I liked best was the DJ booth with live music. I have never seen anything like it in any other restaurant. It was just great. The illuminated drinks menu is also something that guests will remember.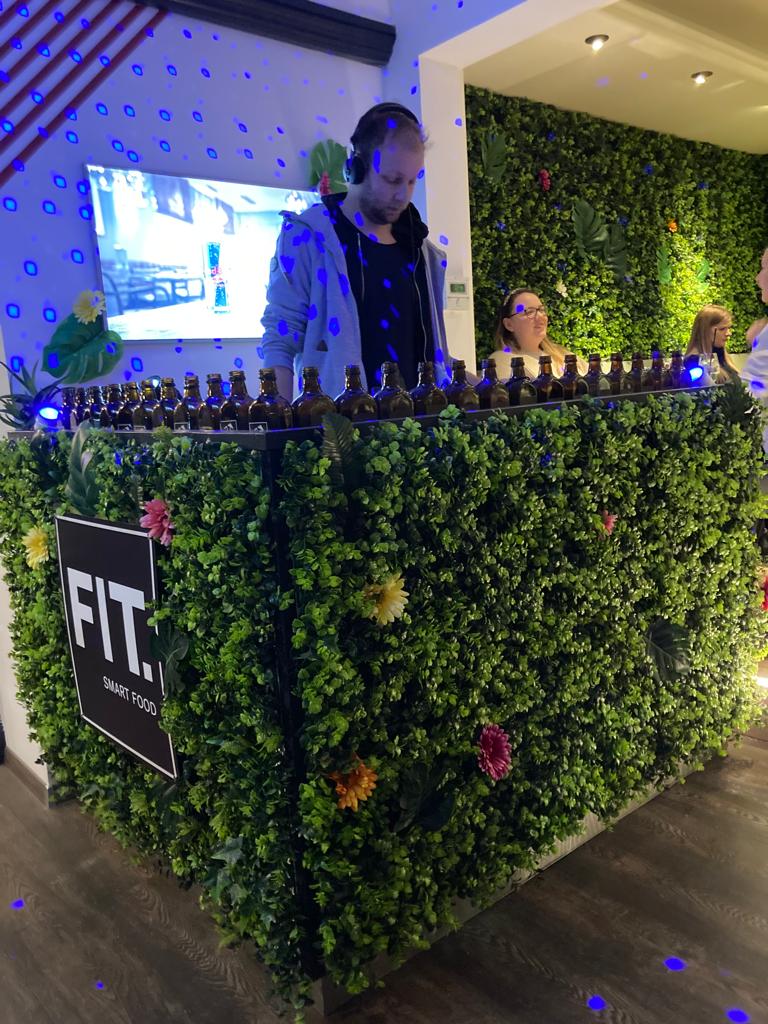 My personal conclusion:
A restaurant with a lot of personality, heart and soul. The location is beautifully decorated and perfect for people who like to eat healthily but still love delicious food. Here you can just sit back and enjoy delicious fast food with a clear conscience!
If you are curious about other vegan food spots in Salzburg, check out Organic Pizza, Vegitalian, Naked Indigo and GustaV.