After our visit to Tomaselli and learning about the classic way to drink Spritzer, it has already gotten late in the afternoon. Leaving the busy café, we continue to wander through the old town and end up in one of the busiest alleys of Salzburg – The Getreidegasse. You will immediately feel overwhelmed by the tons of people literally pushing each other from both ends of the street to finally reach the Mozart's birth place for which this street is famous for. Every visitor of the city, of course, aims to have a picture in front of this building as a memory to be taken home. Furthermore, you can discover architectural pieces of art when you have a glance on the historical buildings. These are decorated by beautiful doorways and another interesting detail you might recognize are the windows which become smaller from the first floor up. What else you can experience in this part of the city? Of course, you have the opportunity to shell out your money, or you maybe treat yourself with one or two pieces because the variety of offers ranges from Zara and Mango to Louis Vuitton and other luxury brands. After sitting for so long we decided to do some shopping before we drink the next Spritzer since our next destination is located at the end of the Getreidegasse. To be honest, quickly we recognized that our student budget reduces our choice of stores, however, the window shopping kind of makes us keen on studying harder and just getting another Spritzer. 
Finding our way through a crowd of Asian tourists, we head into the direction of our destination. The Carpe Diem is conveniently located on the very end of Getreidegasse and greets us with a lovely terrace, inviting us to enjoy the last sunrays and warmth till night falls.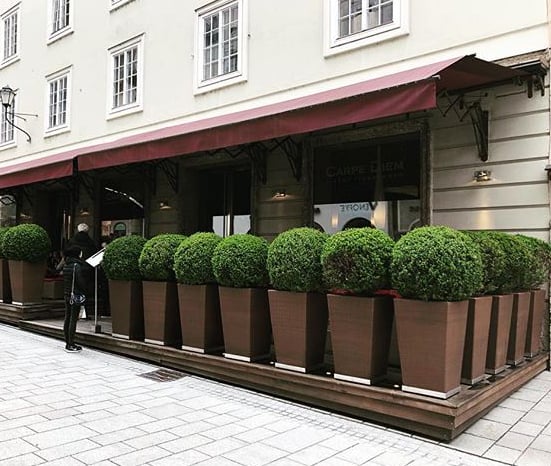 We luckily got the last free table on the terrace and fall into the comfort of the lounge-styled seats and wait for a waiter to come – after all we needed to order another Spritzer (for scientific purposes of course). Carpe Diem is a little bit fancier than other bars in town, something you´ll definitely recognize as soon as your drinks arrive. They are presented in style and class. Fancier yes, but not that much more expensive than other bars! Receiving our long awaited Spritzer we looked through the menu of the bar (also a restaurant at night – a little too expensive though for us students ).
Finest Fingerfood, as it´s in the name of the bar, we decided to order a little something to eat. Pita-bread with some dips was the finger-food we decided for and let me tell you, it tasted amazing. 
Slowly but surely, we felt some heady effect of the one or another Spritzer we drank. At this time of the day we were at the point of having to decide what we were going to do.
Going for dinner? Continue drinking great Spritzer? Going out to the clubs? Calling it a day and going home?
We, students, young, active – I mean you can guess which option we took.
Naturally we called it a day and went home separately! What did you think?
After all it´s called Carpe Diem – enjoy the day! Nights are meant to sleep, aren´t they? 
Where´s that fancy bar at you ask?
Here: Getreidegasse 50, 5020 Salzburg