Introducing Gruenauerhof in Salzburg
Hotel & Wirtshaus Grünauerhof in Wals bei Salzburg is the perfect destination for those looking for a combination of relaxation and adventure. This charming hotel and restaurant is located in the picturesque town of Wals, just a short drive from the historic city of Salzburg. Salzburg's cosmopolitanism meets beloved tradition at the Gruenauerhof. Located at the gates of the city of Mozart, in the green municipality of Wals, your holiday will be a real relaxation!
This is ensured by modern rooms & suites, a wellness area with everything that gives relaxation after an active day, and of course the good tavern cuisine. Grünauerhof is one the Traditional Restaurant in Wals near Salzburg. The year is 1898. Grünauerhof began as a small farm continued successfully for over 120 years. Has been expanded, rethought and improved. What has always remained the same is the way we meet their guests. With heart, charm and sensitivity. Experience it for yourself.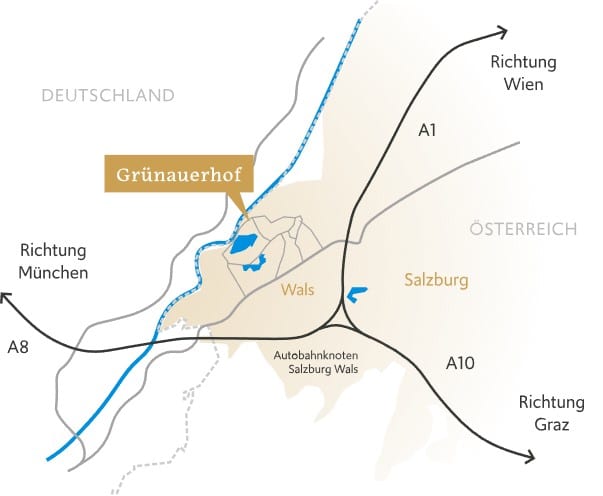 The hotel offers a variety of room options, from traditional Austrian-style guestrooms to spacious suites with balconies overlooking the beautiful countryside. Each room is tastefully decorated and equipped with modern amenities to ensure a comfortable stay.
The Wirtshaus Grünauerhof is a popular spot for both hotel guests and locals alike. The restaurant serves traditional Austrian cuisine made with fresh, local ingredients. The menu features a variety of dishes, from hearty meat dishes to delicious vegetarian options. The restaurant also has a great selection of local wines to complement your meal.
The hotel is the perfect base for exploring the surrounding area. Wals is known for its beautiful countryside, with rolling hills and lush green forests. There are many hiking and biking trails in the area, as well as opportunities for horseback riding, fishing, and golf. The hotel can also arrange for guided tours of the nearby Salzburg area, including visits to the famous Sound of Music locations and the historic city of Salzburg.
For those looking to relax, the hotel has a sauna and a small fitness room. The hotel also offers a variety of massage and beauty treatments to help you unwind and rejuvenate.
Overall, Hotel & Wirtshaus Grünauerhof in Wals bei Salzburg offers a perfect blend of relaxation and adventure. With comfortable accommodations, delicious food, and plenty of activities and attractions nearby, it's the perfect destination for your next vacation
ROOM TO LINGER NEAR SALZBURG
carefully crafted parlours with individual flair form the framework for your enjoyable hours at the Gruenauerhof. From the cosy Zirbenstube to the large Untersbergstube, every group finds its place. Our separate parlours allow enjoyment and conviviality in an individual setting, crowned by the best cuisine and courteous service.
DISHES FOR ALL TASTES, TO THE RHYTHM OF THE SEASONS NEAR SALZBURG
Food is known to keep body and soul together, and the Grünauerhof near Salzburg offers its guests a varied and balanced menu for every taste. Seasonal focal points bring variety to the menu. Keep your eyes peeled for our game weeks and Christmas specials, and look forward to refined seasonal salads or special menu creations for your festive occasions.
A PLACE TO PARTY IN WALS NEAR SALZBURG
Occasions for celebrations that life dictates. If you have something special to celebrate in Salzburger Land, we are at your side with personal support, individual menus and competent organization – from the wedding to the company party.
Sometimes you just want something down-to-earth. Something familiar. Where you know what you're getting. And that's a lot at the Gruenauerhof! A guad's Wirtshaus – Family Eisl is happy to make a reservation for you!
ADDITIONAL BUSINESS CONNECTED WITH HOSPITALITY NEAR SALZBURG
From their fields comes the freshly harvested vegetables, which thrive particularly well in the Salzburg Basin. In addition, a cattle fattening farm belongs to the agriculture, where about 20 cattle and about 40 pigs are raised at the same time. From the in-house butcher's shop, the products are finally transported directly to the kitchen without long transports and without interruption, where they are transformed into the delicious and popular specialties. Pleasures for the palate with a good conscience and with traceable origins – this is what the Eisl family, stand for.
just like their own regional products, They claim that their commitment to sustainability testifies to their love of the environment in the Salzburg Land. In the "build" area, too, they work closely with producers and craftsmen from the region – out of conviction to strengthen the local economy.
For example, they rely on local woods, which give the ambience in the hotel, the rooms a particularly warm setting. They always try to keep their business ecologically up to date and operate our own photovoltaic system to generate energy. Their air conditioning system is fed with their own well water. Furthermore, waste separation and avoidance, the use of local building materials and a mindful use of resources are particularly close to their hearts.

For more: Blogs