The mountains are calling and YOU must go
You wanna go skiing but don't know which ski region best fits your needs? And even after finding the perfect ski region for you – where should you have lunch or enjoy a good après ski party?
That's where we, Andrea, Alex, Nina and me Melanie, come in and provide you with some awesome insider tips concerning slopes, food and of course après ski ☺
We checked out some of the hotspots in Ski Amadé for you, so you can have the best skiing experience ever and benefit from the experience of us locals.
So, here are our 10 insider tips for an awesome day (or also days) of skiing and of course loads of fun:
10 most valuable insider tips for skiing:
You can reach the ski area of Zauchensee directly via the motorway A10 exit "Flachauwinkel" – no curvy mountain roads and no snow chains needed!
Rent your equipment directly at the Flachauwinkel Highport station at Intersport Schneider! Whether you don´t feel like bringing your own equipment or just want to try out a new ski!
Your Ski Amadé ticket is valid in the whole region, just switch between different ski areas if you feel like it and never get bored!
Attention: Don´t forget your student card to get reduced student-tickets
Enjoy untouched slopes at "early morning skiing" in Mühlbach am Hochkönig. Starting time: 7.15. – Breakfast included!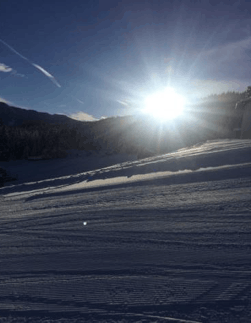 Try the best beef tartar at the "Herzerlalm" in Flachau
Drink at least one "Willi Birne" or "B´soffene Marille" during your ski day ☺
One is a must, two is even better!
Best sun spot – Burgstallhütte in Zauchensee
But remember to put on some sun cream 😉
Fancy some quality time with your special second half?
Enjoy romantic telescopic star watching every Tuesday in Zauchensee.
Don't feel like going skiing?
Alternative program – snow shoe hiking in Kleinarl around Jägersee
Check out our video with some tips for you!
Melanie Hattinger