Café Sacher, the No.1 Coffee House in Salzburg
I'm currently looking for a decent local café to write a blog. Although there are plenty of Cafés in the area I have moved to, this morning's Coffee shop proved that finding one to call 'home' is more difficult than one might think.
As I walked from one café to the next, I began to make comparisons my search for a new coffee shop for blogging. Then suddenly Café Sacher came to my mind and wanted to try Austria's most famous dessert. As soon as you walk in, you know you're in an Austrian coffee shop. When it's come to Cafés in Salzburg not every café in Salzburg lasts that long. Café pastry shops exist that have nothing to with Austrian coffeehouses. You could be in any other city in Europe. Austrian coffee culture involves customs and guest manners that other Europeans have abandoned.
The best place for a Coffee
After making all of these assumptions, I visited Café Sacher, which is located next to Salsach River. If you ask someone in Salzburg for a café suggestion, the first thing you will hear is Café Sacher. This café hardly needs an introduction. It is the most popular café in the entire city! and it also offers Austria's most popular dessert: the Sacher Torte.
When you go inside, the first thing that comes to mind is the iconic Austrian Traditional Interior design and the smell of Sacher Torte, the famous Chocolate Cake. The café was artistically designed in a way to give a royal majestic appearance where the walls were full of historical pictures as memorabilia. The furniture was antique and fabricated in velvet materials.
The tables were decorated with fresh flowers enhancing the purity and the freshness of the ambiance. There was a display of variety of cakes decorated in different styles portraying elegant pastry and cuisine. I had to get a slice of the Sacher Torte because I have travelled all the way here, but I also read the menu for some new desserts and drinks to try on the side. Finally, I placed my order and here are what I ordered.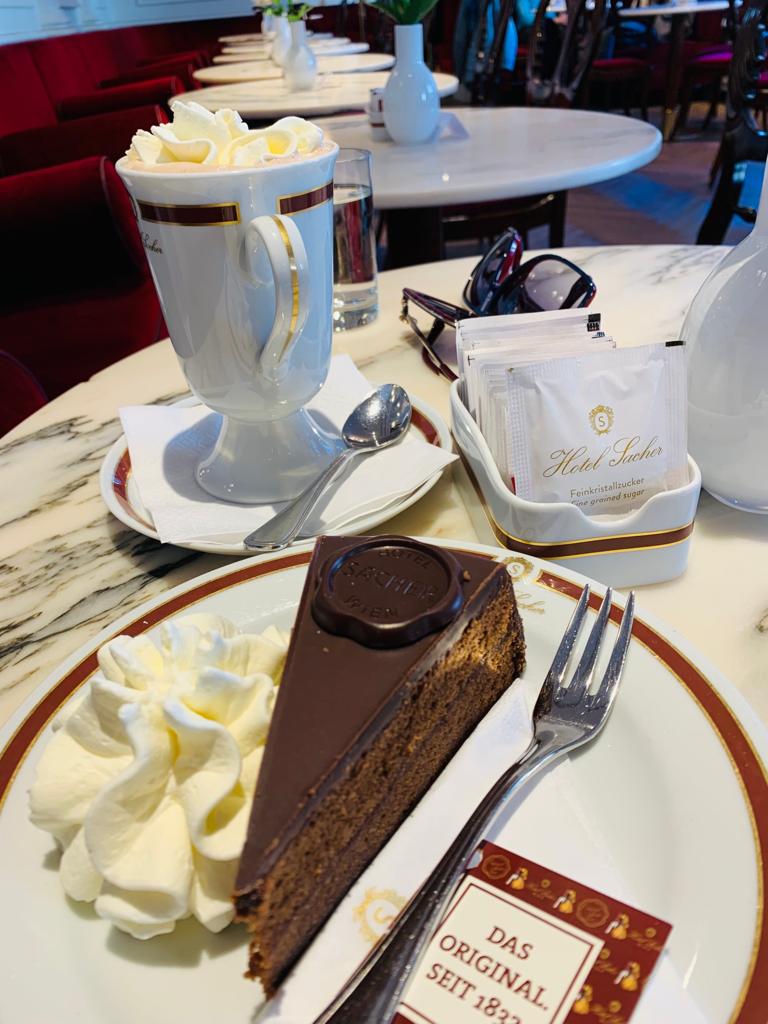 A chocolate cake with a light coating of apricot jam, topped with dark chocolate icing and served with whipped cream on the side.
Biscuit soaked in Rum with fresh fruits and Vanilla cream
This was also one of the best desserts I have ever tasted. The presentation of the dessert was magnificent, and the blend of taste of the cake, rum, fresh fruits and vanilla cream was one of a kind.
Hot chocolate with original dark chocolate and cream on top
This Original Sacher trinkschokolade is without a doubt one of the nicest beverages I've ever experienced. I suppose it takes a few delicious spoons of dark chocolate and cream on top of it, because the final product was so thick and frothy, it nearly seemed like a milkshake and it is not too much sweet. While I was enjoying this I began to ponder about the history and legends surrounding Sacher Torte and this brand name.
History of Café Sacher
In 1832, Prince von Metternich tasked his 16-year-old apprentice Franz Sacher with creating a dessert for his distinguished guests. The delicious and decadent masterpiece was to be constructed with chocolate, apricot jam, and whipped cream, which became the delightful trinity that formed the foundation of the formula for success that became the Original Sacher-Torte. To this day, that recipe serves as the cornerstone for every Original Sacher-Torte cooked by hand.
Today, the Original Sacher-Torte is recognized as one of Vienna's cultural and gastronomic crowning achievements. Both the Hotels in Wien and Salzburg have received some of the industry's most renowned honors on a regular basis. From tourism and leisure specialists to TripAdvisor distinctions based on guest evaluations and ratings, the Sacher Hotels have performed well throughout the years.
Fantastic experience
All in all, my experience in the café was excellent. The service was excellent and very personalized. For example, my friend's face mask was damaged, and the waiter was so thoughtful to offer a new face mask. When I asked about the history of the place, he went above and beyond to explain the history, owners and the chronology. While we were exploring the pictures on the wall, the waiter came with a Café Sacher magazine. How thoughtful was that? So I highly recommend all of you who love a majestic café experience, visit https://www.sacher.com/en/restaurants/cafe-sacher-salzburg/