Hello everybody, here is Julia and Alice!
Now that you already have an idea about our idea and the project, we want to share with you the experiences that we had while visiting the city looking out for secret spots and curiosities.
First of all, we would like to tell you that, after living here for two years, we thought we knew almost everything the city offers, but we were completely wrong! Salzburg has a lot of views, curiosities and works of art that we never saw before. We are afraid that you would leave the city without seeing them either, that is why we decided to create this tour for you.
At first, our tour was planned to include the "Salzburger Neustadt", which is the part on the other side of the river, but we found too much cool stuff to put it all into one tour. You can find information about the other part of the city here in this blog entry, so keep on reading!
Here are the things that we learned about the city and want to share with you:
Albert Einstein was here!
This is the door of the building where he first presented his theory of relativity to the public…you know that famous E=mc2 formula? Well, now that you know this important part of trivia, why don't you go and check out this place too?! Today, that building is a school, and it is located in Faberstraße.
We love fairytales 😀
Not only scientists choose to come to Salzburg, but also magical creatures! This means that this city is a fairytale turned into reality. In Mirabellgarten, we found unicorns and dwarves, but maybe you can find other surprises among the flowers and the fountains, so go there and look for them. Be careful not to get lost though, a labyrinth is also hidden in this park. In the middle of the labyrinth they play concerts during summertime, if you are there in this period you might be lucky to hear one.
Mirabell castle and gardens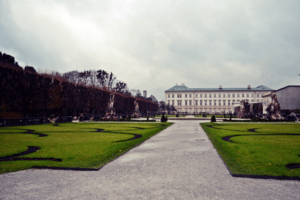 You probably only saw Mirabellgarten with tons of people and sunshine, but visiting it in winter with a bad weather has its perks as well. We were lucky enough to see an empty place and took a picture of its surreal atmosphere, so you are able to see another side of the gardens.
Drama, baby!
The Festspiele are one of the reasons why Salzburg is so famous worldwide. Do you know that they were first played in Landestheater in 1972? And that all of the plays in the first years were composed by the same person, Thomas Bernhard? We found it out by accident, on a sign on the wall of Landestheater.
Synthesis of Austrian delights: cakes, big cakes, small cakes…and Lilliputs!
Altough it is originally from Vienna, the world famous Sachertorte can be found in many Austrian cities. There is a hotel Sacher in Salzburg as well, and you don't want to leave Austria without trying its specialties. It offers chocolaty delights in all forms and sizes, so if you are not very hungry or want to bring a yummy souvenir at home, you can try the smallest cake, the Lilliput.
Fabulous French Food
Right at the bottom of Kapuzinerberg is one of the most delicious hidden spots in Salzburg, the Crêpe d'Or. Since it might be quite hard to walk up this steep path with a full stomach, we suggest you to try their offers after you come down the mountain, especially because you will want more then one crêpe.
Barrelled Belgian Beer
We know this might seem quite weird since we are in one of the most famous beer producing countries, but since Stiegl and Augustiner breweries are a bit further away from the centre we suggest you a closer alternative. In this Belgian Beer paradise, called The Alchimist, you can try 50 varieties of beer, from Duvel to Hoegaarden. Pretty appealing huh?
Sebastian Friedhof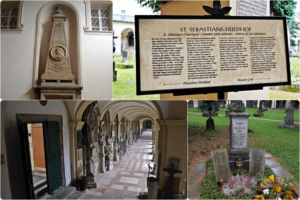 There are many beautiful cemeteries in Salzburg, one of them is in Linzergasse and it is named after St. Sebastian. Among the graves you can see here are the ones of Mozart's wife, Constanze and Paracelsus, a Swiss German philosopher, physician, botanist, astrologer. Does your carreer seem boring now? Yeah we thought the same.
Christmas in Salzburg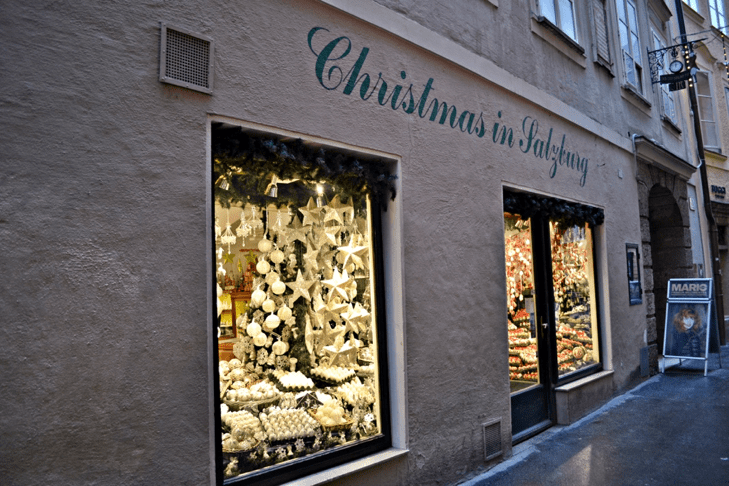 No matter what the calendar says, if you are walking in the Judengasse, you are only a few steps away from Christmas! Were you looking for a particular cherub or a snowflake ball for your Christmas tree? You will most probably find it here, and remember: it is never too early to buy the decorations for your house!
Thousands of tourists are coming from all over the world during Advent time to visit the Salzburg Christmas markets, but if you missed out on them do not worry, you will still be able to enjoy the Christmas atmosphere.
Children with a green mind
You will be surprised by how many people are cycling in the city. All the bike lanes are always full of people going to work, school or doing sports. And their green mind starts when they are very young. During our trip we found this minibike and we want to show you its cuteness, since it won't be there when you visit the city…its active little owner is probably gone away!
Typical Salzburg postcard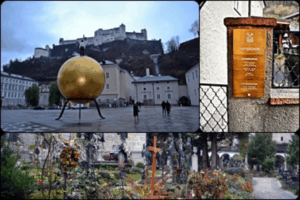 Yeah we know what you are thinking: this is not a secret spot! But as every city tour we could not avoid this must-see. Anyways, we still have some fun facts regarding Kapitelplatz. We were curious to find out if the golden ball is real gold (it is!) and we were knocking it to see if it is solid or hollow. But we won't tell you the answer: you need to find it out yourself!
By the way, if you keep walking to the other side of the square you'll find the oldest bakery and the Petersfriedhof, the most famous cemetery of the city.By the way, if you keep walking to the other side of the square you'll find the oldest bakery and the Petersfriedhof, the most famous cemetery of the city.