Exceptionally beautiful but fucking cold!
Alex and I decided to complete our Ski Amadé guide with the ski area Radstadt/Altenmarkt. Being the first one on the slopes on a Monday seemed to be a good idea as we expected well-groomed and empty slopes. And we were totally right HOWEVER we did not consider the temperature part there: with -20 degrees we were freezing right from the beginning and every movement was painful! But, it was totally worth it!!! The slopes in the ski area Radstadt/Altenmarkt were in perfect conditions and hardly any people were driving down the slopes. As the slopes in this ski area are very wide and broad we raced down the slopes without compromises.
Because the cold was almost unbearable, we did not use a ski lift once but used the short rides in the two cable cars to defrost. After two hours of intensive racing, we had to surrender, as we could not feel our fingers and toes. However, we were completely satisfied and happy as it was one of a few winter days were the slopes belong only to you and you can race down without the fear of running over someone. We finished our morning in the "Bifei's Hüttn" enjoying a hot chocolate and a delicious strudel. It was definitely the "most perfect" winter day in this season so far!
Key Info:
Insider tip, because few people are there and perfectly groomed and wide slopes
"Hüttentipp": Bifei´s
→ try "Topfen-Heidelbeer Strudel" (quark-blueberry strudel)
→ a tobogganing route starts from there
Check out the video of our insider tip – Bifei´s Hüttn

Filzmoos:
Want to have the ultimate winter experience far away from large commercial ski areas? Then you should definitely check out Filzmoos. This small enchanting mountain village is perfect for a relaxing ski day as the number of skiers is usually pretty low and the slopes are always in good condition. After some hours of sking we enjoyed some tasty "spare ribs" at the Moosalm – definitely worth a try!!
Since my best friend lives in Filzmoos, we decided to stay overnight and enjoy some Après Ski. And even if the village seems to be a calm and quiet place – they know how to party! Together with some ski instructors and some other locals we checked out the new Après ski hut, the "Almstadl". I guess it's enough if I tell you that we had a blast and weren't able to get a lot of sleep during this night .. 😉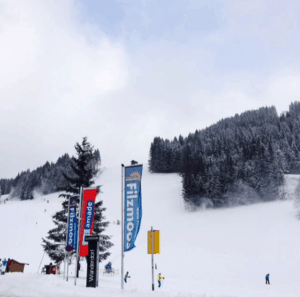 Key Info:
Well groomed slopes, few people because of the remote location.
"Hüttentipp": Moosalm
→ try "Ripperl" (spareribs)
"Après Ski Tipp": Almstadl, the new Apres Ski hut which opened in 2015
→ try "Weixei" (cherry schnapps)
Nina Ellmauthaler