Have you ever dreamed about flying?
Its time to go for it and realize your dreams! Being located in or around Slazburg gives you the perfect Opportunities to do so. There are several Mountains around Salzburg where you can go Paragling easily for the afternoon. If you have a pilot license and your own paraglider than i bet you are already up in the air, if not, dont worry you can easily go flying with the local flying schools which bring you up in the air and you will benefit from a breathtaking flight and unforgetable experience. Just do it! Let your dreams become the truth and enjoy the city and area of Salzburg from the birds view 😉

Overview of famed flying schools around Salzburg
Fly Tandem – Tandem Paragliding Salzburg / 0650 82 63 36 1
Flying School – AustriaFly / 0664 44 20 00 2
Flying School Salzkammergut / 0664 11 16 09 9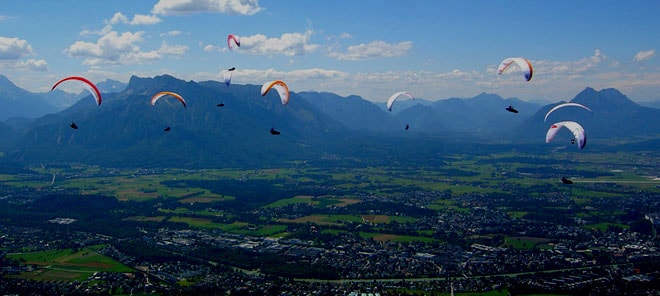 From just € 79,- ongoing up to approximately € 120,- you can get a tandem paragliding flight and be up in the air flying around of the city of Salzburg and around the mountains in the area of salzburg. If you want to become a pilot and make paragliding to your passion you can easily start to do the the pilot license in one of the named flying schools. It is a process similar to the driving license, takes approximately around three months if you are fast and costs you around the same than doing a driving license for cars. For students there are special offers and you can start your flying license basic course already for just € 300,-.

"Paragliding is an insanse hobby which is highly recommandable for adventurous people who wants to get more out of their life than just netflix & chill"
Give yourself a hint and get your lazy a** of the couch and let your dreams become the truth! The closest Paragliding spot is the Gaisberg and is just 20 minutes away from the City Centre of Salzburg anda first Tandem flight to try it out if it is exactly your sport also doesnt costs you more than being a night out somewhere in town…
And for those of you who are not totally psyched yet, i have a small clip for you guys to get a first impression about paragliding around Salzburg 😉