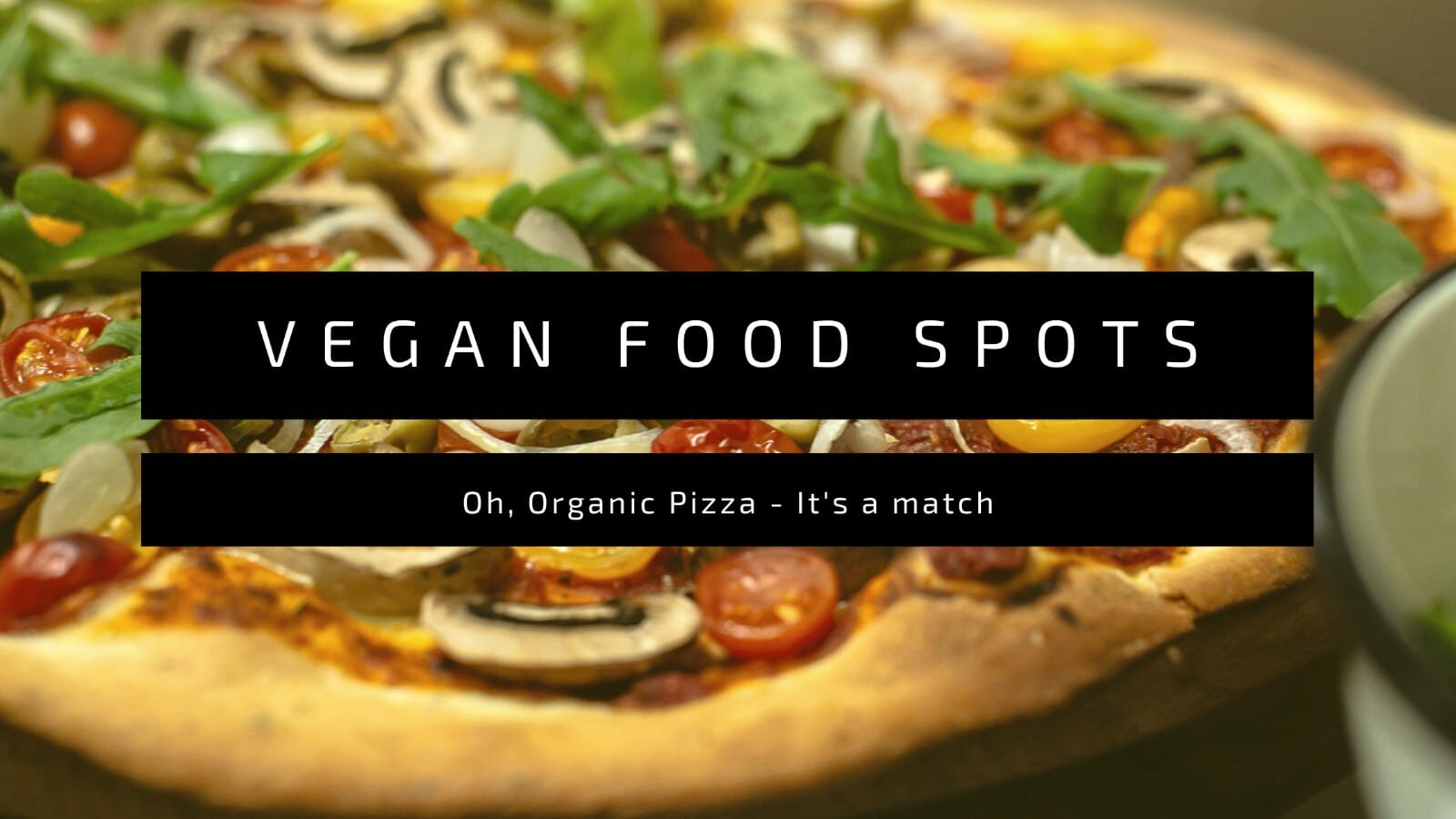 If we talked Tinder, vegan and pizza somehow do not get a match right away. The harmony and compatibility just seem to be missing. Shouldn't pizza be with some cheesy, mouth-watering guy? Pizza and vegetables sounded like…a pretty bad date to me and my fellow group members. How wrong we were. Here's the love story.
Love at first bite?
You may or may not know it yet, but there is a little partly vegan pizza place in Salzburg city that proved our stereotypical thinking wrong: pizza and healthy veggies do match! To test this for ourselves, we went to the readily accessible restaurant Organic Pizza in Franz-Josef-Straße 24A in Salzburg and ordered four different pizzas to try a variety of the vegan delicacies. In addition, one of our taste-test team members ordered a pizza home to see how the delivered dish performs. We wanted to know: Is there a chance for love at first sight for these pizzas?
The way to a heart is through the stomach
In terms of choice, this pizza place was vegan heaven. Since I am on a plant-based diet myself, I know that all I can expect from usual pizza chefs is dough and tomato sauce, maybe topped with corn, garlic oil or other veggies if they are feeling extra. No sight of this kind of boringness, however! They always offer one vegan pizza of the week – in our case served with marinated king oyster mushrooms, capers, cherry tomatoes, vegan cream cheese, fresh basil, and herbs. In addition, customers can choose from a range of so called "Vegan Organic Pizzas", differing by the kinds of vegetables on them. While one pizza is served with onions, zucchini, bell peppers and mushrooms, another one comes with dried tomatoes, sprouts, rucola, walnuts or balsamic cream.
The price of love
Concerning the prices, this place is in the range between moderate and pricy. Whereas the vegan pizza of the week cost €12,90, vegan organic pizzas all ranged between €9,90 and €12,90. A nice twist? Other than usual, at Organic Pizza's the conventional pizzas with dairy products were on average more expensive than the vegan ones, which is usually the other way around. Cheers to that!
Rendezvous surroundings
Considering our own interior tastes, the atmosphere of the restaurant itself – the meeting point of the rendezvous between our lovebirds – leaves some room for improvement. Whereas no one could argue against the pleasant and comfortable ambiance, the interior design could still do with a little enhancement in terms of style. Nonetheless, the place invites to spend a pleasant lunch break or evening with colleagues, family, or friends.
Swiping right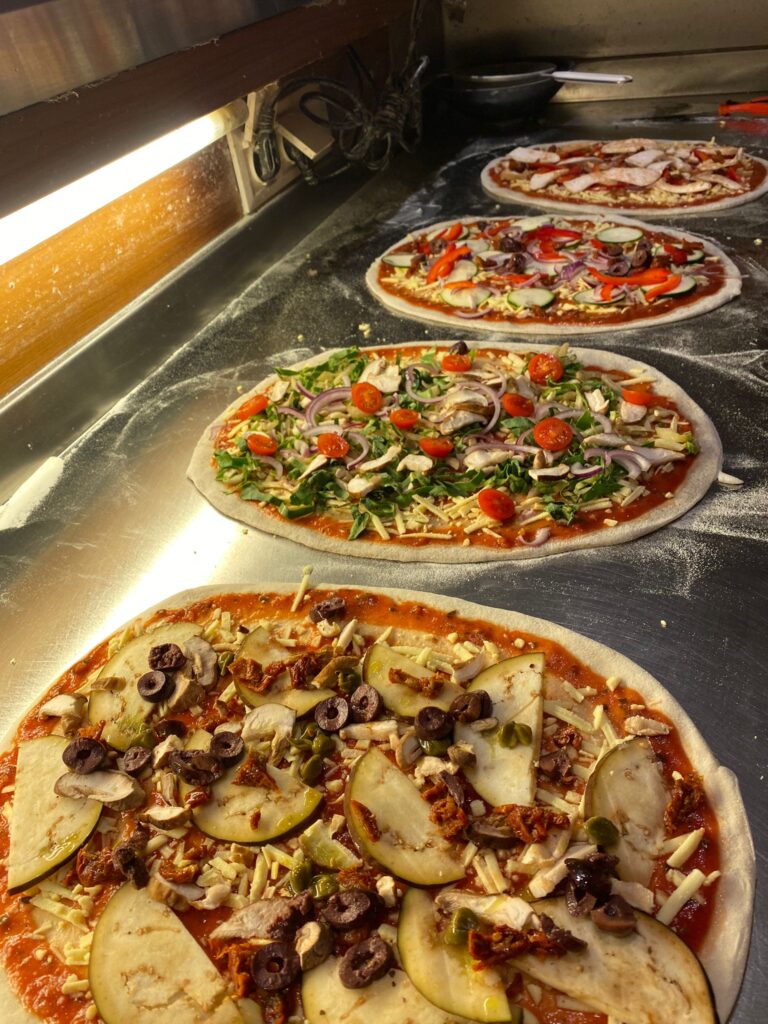 And as soon as we tasted our pizzas, the interior was forgotten and we just dived into a world of pizza dough, melted vegan cheese, fresh vegetables, and aromatic tastes. In brief: Yes, it was a definite SWIPE RIGHT – the vegan pizzas charmed us!
Charming tastes
Whereas the dough was thinly rolled out, the pure simplicity of different kinds of vegetables relativized the need for animal products, such as salami, ham, egg, or dairy cheese, but it also made meat or fish substitutes obsolete. The vegetables' flavors spoke for themselves. Also, our colleague who wanted to try the same pizzas in delivery style was positively surprised by the pizza she had ordered. According to her, what made it so outstanding was the way everything was seasoned, which turned the pizza into a taste sensation.
Ingredients of love
To us, who tried the pizzas at the restaurant, what made the flavors even more intense was the fact that, prior to eating, we had been invited by the pizza chef to watch him prepare the dough for our pizzas and spread the tomato sauce, vegan cheese, and vegetables on it. While doing his cooking magic, he explained to me that they only used regional and organic ingredients, which were natural and healthy. This seems to be Organic Pizza's philosophy, in general. No substitutes, but real ingredients in high-quality are taken for all pizzas.
Heartbreaker
Apart from the taste of the dishes, a restaurant's performance is only as good as its service. In this case, we absolutely took a fancy to our waiter who was quick to respond to all our orders, always with a friendly smile on his face. The only disappointment he had to break to us after having finished the pizzas: They had run out on dessert, which was stated to be a vegan walnut cake…how heartbreaking, we sure would have loved it.
Second dates and hungry mates
To sum up, the date experience was very convincing. Especially for those who are on the quest for a vegan and healthy pizza alternative in Salzburg, this place is a must-experience. It is also the perfect spot for picking up fresh pizzas and bringing them to hungry mates at a student dorm party, whereby demonstrating to others that vegan food can be very delicious in addition to being good for the environment.
Did we fall in love?
Now you are most probably wondering: "Will there be a second date?" The answer is: Most definitely. Despite all social conventions, vegan pizzas do make a lovely couple, we must admit.
You are vegan and stay in Salzburg for longer? If you want to try more vegan food spots, check out our further blog posts, such as the one about GustaV Bistro.