What is it?
The "Medizinisches Zentrum Bad Vigaun" is a centre which provides a wide variety of services. The main building offers a wellness centre with different rooms and pools depending on the purpose or the treatment required.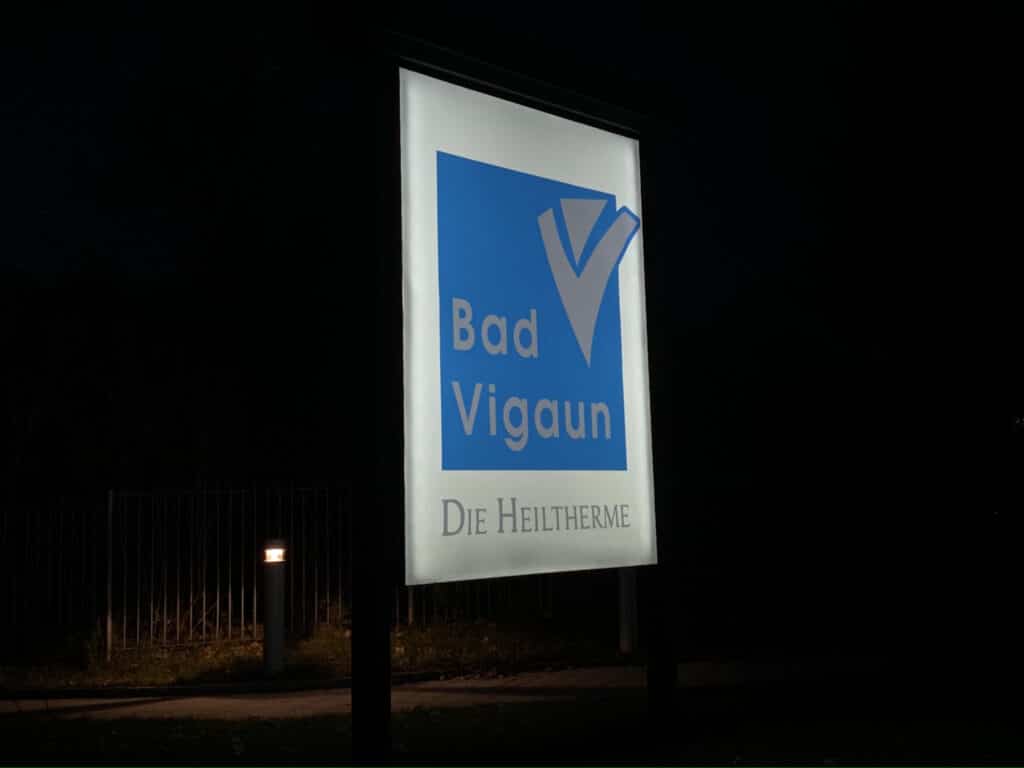 It offers thermal baths with different pools, rooms, and amazing baths. Also, there is a medical centre where "Health Care Active" (GVA) is provided (it is a process that improves the quality of life and prevent sickness).
The thermal water provided is a key element for some of the services like therapeutic concepts and treatments. Rehabilitation in the centre is also possible and they offer a diverse variety of options including medical massage, electrotherapy, physiotherapy, or some services to quit smoking.
Services offered:
GVA
Cure
Clinic
Rehabilitation
Healing thermal bath
Hotel
Café / Restaurant
Thermal landscape
The thermal landscape offers two indoor and a big outdoor pool with an amazing view to the mountains, all with different temperatures to relax. It offers a Roman pool with 35 degrees Celsius water, an indoor pool in 31 degrees Celsius, and an outdoor pool with water heated at 27 degrees Celsius. All of them refilled with the purest thermal healing water. The Office of Salzburg State Government recognised St. Barbara Spring as a healing spring, from which water used in the pools is imported. The mineralization of its calcium-chloride-sulphate-mineral mixture is 8200 mg per litre of water.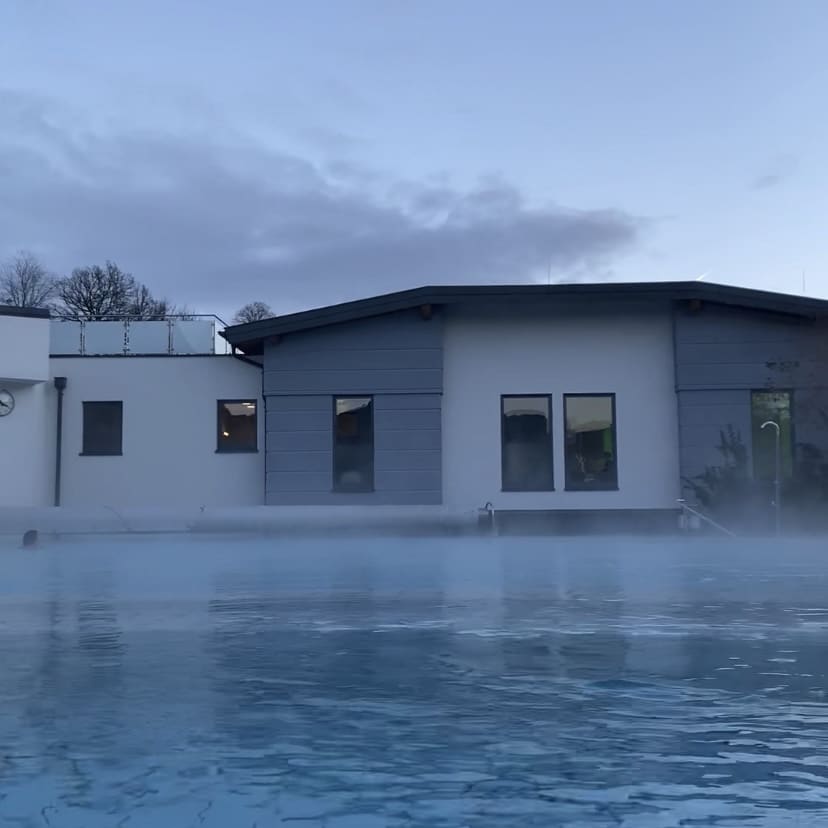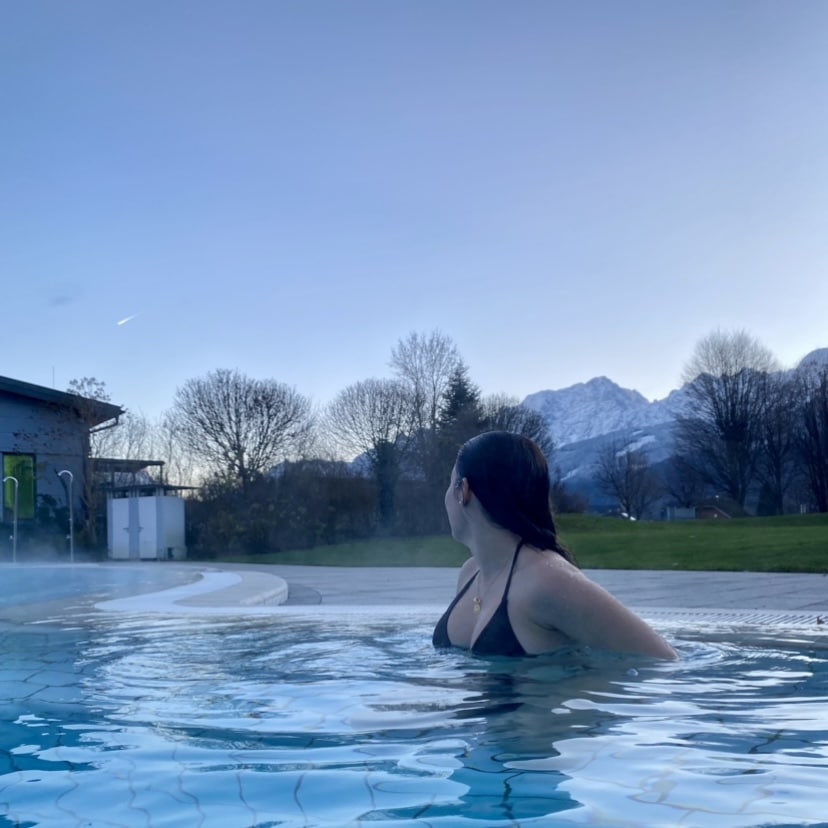 Saunas, infrared cabins, and steam baths are other options to immerse yourself in the source of well-being. The sauna area offers six different options, an aroma steam bath (43 – 46º) which combines two different healing methods, the steam bath and aromatherapy. With this, blood circulation would be stimulated, and physical performance is increased. The brine steam bath (43 – 46º) helps relaxation and is healthy for respiratory tract. The samarium and the Finnish saunas are the best option to relax after a long day, after tough sport day and to improve general condition. Infrared cabins and a rock sauna with sauna garden are also options offered in the centre.
There are changing rooms to prepare to go to the wellness area as street shoes and clothes are not allowed in there. Lockers can be used to keep private things save, hairdryers are offered, and private changing rooms too. I recommend to not forget anything as going down to the changing rooms after the warm baths is freezing!
Tasting the Café Therme
Next to the main building there is a coffee where homemade pastries and food can be enjoyed after a long relaxing day. I truly recommend the hot chocolate with cream :). The restaurant menu is wide and the drinks menu as well. Is important to take some clothes to the therme after changing because you are not allowed to go into the restaurant only with the bathing suit. After having lunch or having a snack is always possible to go back to the thermal area and enjoy a nap or just relax in the water beds of the centre.
Prices and fees:
Prices and fees for the medicinal spa and sauna areas are different and they offer different packages. The 3 hours ticket for the first one is 23 euros while for both areas is 27.50 euros. The daily ticket for the medicinal spa is 30 euros and for medicinal spa and sauna area is 34.50 euros. There are also some value cars and season tickets to make a gift or to enjoy the centre annually.
Interesting to know is that the day of your birthday, only showing your ID the services for the "Heiltherme" and the sauna area are free so you can enjoy a wellness birthday.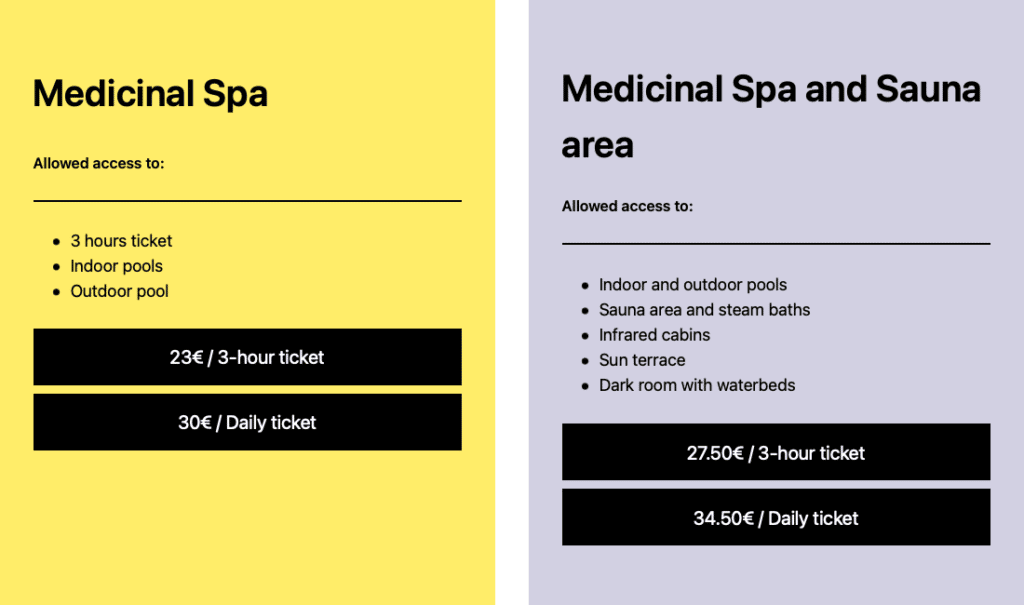 Hotel
There is a hotel in the same building as the thermal pools and it is connected through a corridor. Some offers are provided for guests of the hotel such as:
Free use of fitness and gymnastics room.
Free of charge underground parking space.
Admission to public spa including use of wellness and sauna areas.
Provision of towels and bathrobes.
Good to know!
Regarding my experience I would like to recommend some things I did not know before going and they could be useful tips.
Do not forget you flip-flops and towels if you do not want to pay for extra!
The customers visiting the most are mainly elder people as the centre is recommendable and used for recovering, preventing, and healing illnesses.
The place is not as big as it seems, but it is really enjoyable and the facilities are clean and safe.
Details
Where?
Medizinisches Zentrum Bad Vigaun, Karl-Rödhammer-Weg 91, A- 5424 Bad Vigaun/Salzburg
When?
The center is open from Monday to Friday from 10:00 a.m. to 10:00 p.m. and Saturday and Sunday from 10:00 a.m. to 9:00 p.m.
What shall I take with?
Towel, flip-flops, bathing suit and a little bit of stress to relax and get rid of it ;).
Discovering Vigaun activities: