Springtime in Salzburg has always been beautiful and magical for me. Feeling how the sun touches your skin and everything around you just start to bloom. This puts me immediately in a perfect mood. That's one of thousand reasons, why I love Salzburg so much, especially around this time of the year. With the spring months also, the final exams come closer. I do not know if you feel the same as me, but I always get the feeling that I miss something out when I sit the whole day at the library. To be honest, it is truly annoying if you have to sit inside at the library for the whole day when the weather is so lovely outside. But don't worry, we got your back! Your team "Escape the library" found you 3 ultimate spot, where you can have a cup of good coffee at a cozy place and at the same time enjoying the sun while studying for your next exam! Starting with this lovely coffee Monkey cafe.bar right next to the river. The perfect study spot for YOU.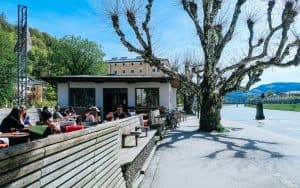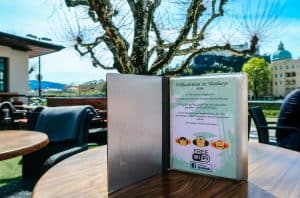 Rita, Csilla and I visited on a wonderful Friday noon the Monkeys café.bar which is located in the Imbergstraße 2A. It is only few meters away from the Staatsbrücke and therefore a perfect spot if you live at the center from Salzburg. It is spacious on the inside and in spring/summer season you can also sit outside. There are a lot of tables and the staff is wonderful – welcoming, friendly and attentive. We visited the coffee for 4 hours and could study for our upcoming exam without getting disturbed by other guests or by the waiter/waitress. The drinks are good, they offer a broad drinking card, from tea to all kind of coffee. If the hunger should catch you they also have some small snacks. This place is more suitable for study sessions without the laptop since you can sit outside and enjoy the great weather. But if you have some stuff to do on the laptop, the seats inside also offer good opportunities to study. The only downside is that the music is quite loud inside, but if you use headphones it will be fine. Of course, they have pluggers inside. But it is suggested not only order one drink and sit there for hours, but they are very friendly and also making always jokes with their guests. You can feel all the good vibes there.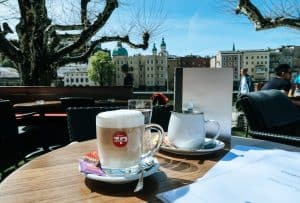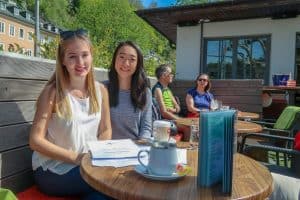 To sum up, monkeys cafe.bar is an excellent place to enjoy the sun and focus on learning session where you have to read articles, papers or something similar. The waiters are funny and entertaining as well. Prices for drinks and snacks are within a students budget.
Important Facts:
Address: Imbergstraße 2A, 5020 Salzburg
Opening hours:
Sunday – Thursday: 11.30 am – 02.00 am
Friday – Saturday: 11.30 am – 04.00 am
Payment Methods: Cash, VISA, MASTERCARD
Drinks: € €
Friendliness: Super friendly staff!