One of the newest party locations in the historical city centre of Salzburg is the LUX Club. Located on Salzburg's most known party street, the establishment opened its doors for guests during the summer of 2022. The lack of clubs in the area – which mainly known for its reputable bars – made the owners decide to turn the former 'Vis a Vis' into this new, innovative clubbing experience.
BEGINNINGS
LUX opened in summer, which was unfortunate because of two main reasons: Many of the city's young residents were on holiday abroad or preferred outdoor parties during the warm weather season – which unfortunately left it fairly empty at times. But, after having a rather rough start, the nightspot gained more and more popularity and was therefore able to attract a bigger party crowd.
Since the building is under monumental protection, the construction process was intense and had to be carefully worked through, as the changes had to be according to governmental guidelines. They put a focus on the special vaulting which turned out to be incredible. The name LUX came to be before the renovation took place, but workers found old vacuum cleaners by 'Electrolux' an electricity company from the 60s which used to operate in Salzburg. If that not fate's way to tell you to choose the name LUX, I don't know what is. 🙂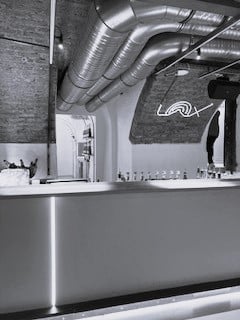 LUX´S INTERIEUR
Entering the discotheque certainly leaves a WOW effect – Unlike most party establishments the bar front is white and furnished with hand crafted bright wooden tables which elude a very elegant feel. The wardrobe and restrooms are located at the entrance. Close by a lounging area for people to sit together and talk has been set up. The DJ desk and dance floor can be found at the back of the club. The bar is very spacious, which allows guests more than enough room to have drinks and chat. LUX has an extremely pleasing, minimalistic style which supports the motto 'less is more'.
The various areas within the nightspot make it attractive to a big variety of people and their differing party desires: Those who just want to get together with friends and enjoy a couple of drinks. The one's that feel like having a fun night at the bars. As well as the party enthusiasts who come to shake off on the dance floor. This was very much intended by the owners, according to the manager – it makes LUX an attractive place for more than one occasion.
One of the most amazing components of this bar is undoubtedly the way it is being illuminated. The lights are scattered in strips along the vaulting. The lighting is so complex, a designated lighting-DJ coordinating the lights was hired to put together a fascinating show for special events. The lighting was designed by an event company that organises big festivals and creates life time memories.
DRINKS IN THE CLUB
Most drinks at LUX are spritz variants, which are well known worldwide: Aperol Spritz, Lillet Rose, Lillet White, Campari, Martini Jigger and many more. They serve these spritz variants with seasonal and fresh ingredients. They also took a few well known drinks and put their own spin on them which makes them unusual and definitely worth a try. Other than that the club offers its own teas, lemonades and also some signature shots.
The reason behind this choice of drinks is simple: The nightspot wants to set a statement that partying doesn't require cocktails with hard alcohol – a lighter drink can make a night out just as fun.
GOOD TO KNOW
The manager has been setting new event ideas into motion: exclusive parties with dancers and show-barkeepers, and signature monthly events, that demonstrate how this establishment is just as much a bar as it is a discotheque. Innovative ideas for weekly and monthly events in the future have been discussed by management as well. Student parties on Wednesdays and Thursdays are another potential addition to LUX's social calendar.
Similar to other nightspots in Salzburg, a dress code has been set up: Smart casual with a well-groomed appearance. Though higher than in certain other places, the prices are pretty standard for this city's average, with comparably bigger drinks. Unlike other clubs, LUX does not require and entry fee. They operate from Wednesday to Saturday from 20:00 to 04:00.
The LUX sets a statement and wows its guests with innovative drinks and parties and an elegant space to spend their nights at. In the heart of Salzburg the nightspot reminds people of the beauty historical buildings are attributed with. LUX allows its guests to experience unforgettable nights while dancing in a historical location. With the minimalistic design it gives room for imagination and creativity. LUX invites you to write your own stories in between walls where hundreds of stories have already been written.
FOR PRIVATE PARTY INFORMATION
For other party locations read in Salzburg:
CLUB PEPE
CITY BEATS
Photo Credits to Lukas Jahn, courtesy copyright from the manager