If you are a true coffee geek or just a person who hates mornings and needs a good cup of coffee before diving into the daily routine, Kaffee Alchemie will become a surprising discovery for you. The name of the place speaks for itself – Alchemie baristas will turn your coffee into a cup of magic. What a treat! Either it is on a hectic working day or a on the long-awaited weekends – stop by for a magic… cause we all need some, don't we?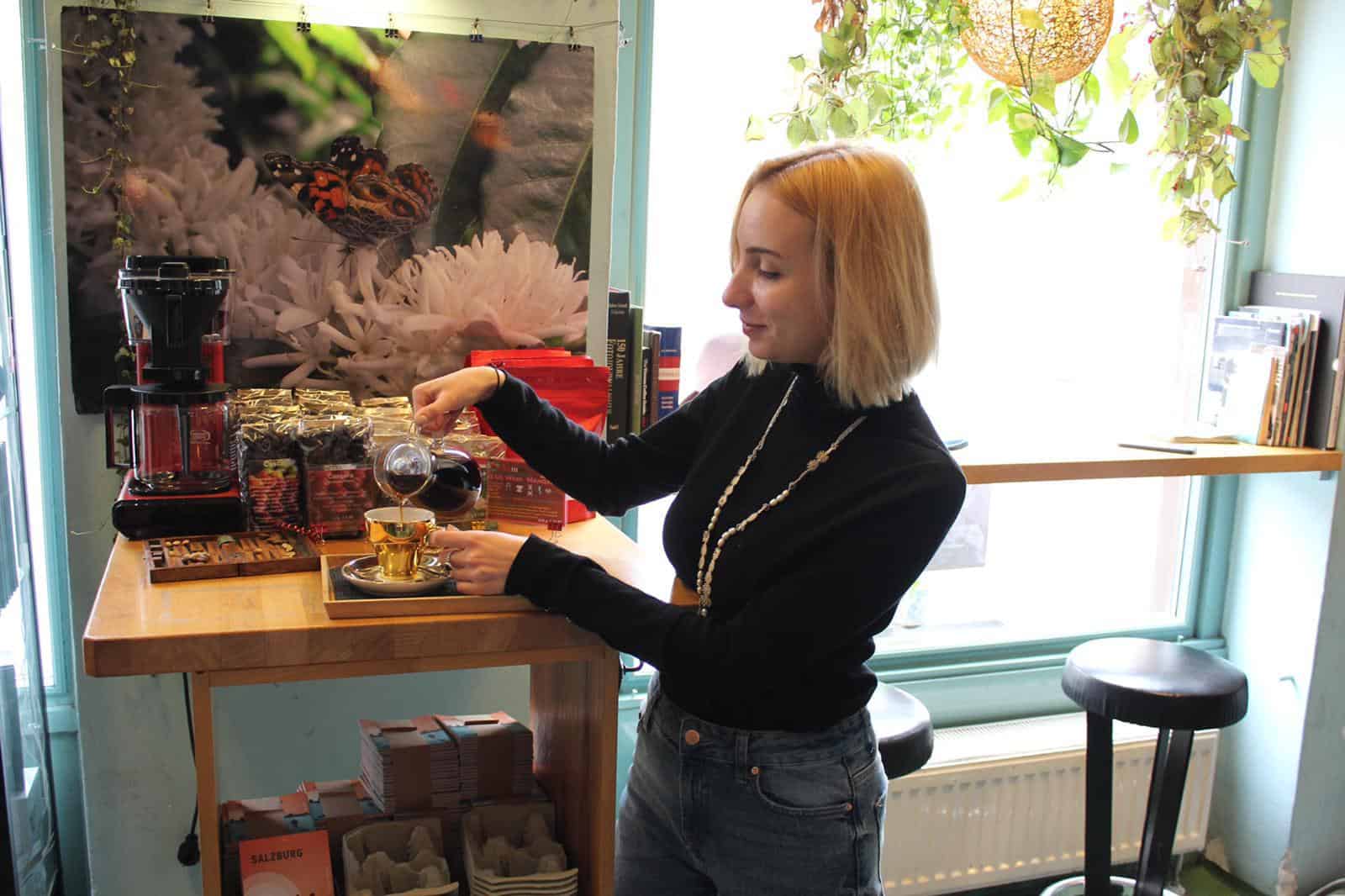 Atmosphere
Small modern place located near Mozartsteg in the heart of Salzburg does not bear any resemblance to the typical Austrian "Kaffeehaus". Cosy laidback atmosphere, chill out music, tones of coffee equipment and coffee books – the café where the passion for coffee is felt in the air. It is in a way baristas prepare their specialties, in a way a smiling Norwegian owner greets his guests and in a way visitors enjoy their coffee – unhurried and immersed. We could have stayed at the place for hours just talking and laughing and drinking coffee. There are no laptops allowed so that you can escape from your endless errands for a while. Great atmosphere for calm solo time as well as for chatting with the mates!
Brewing, brewing…and more brewing
Kaffee Alchemie offers "Specialty Coffee" – high-quality beans grown and processed by small coffee farmers from Central America and Africa. Each coffee type is showcased along with the description of its origin and chracteristics. The main coffee specialty served by Alchemie baristas is filter coffee freshly brewed with the AeroPress method. The method gives coffee this unforgettable robust taste and smell – the one that cannot be fabricated unless it is a top quality! Kaffee Alchemie team breaks strereotypes and proves that filter coffee is not old-fashioned but super tasty and unique. We tried two types from Nicargua and Ecuador – highly recommended! Check out our youtube video to find out more about our visit!

Info
So, don't waste your time on the mediocre coffee! Pay a visit to Kaffee Alchemie at Rudolfskai 38 in Salzburg. You will not regret!We promise!
Opening hours: Monday to Friday – 7.30am-6pm, Sat. to Sun. – 10am-6pm