Did you know that Austria has the highest proportion of land in Europe devoted to organic production of meat, dairy products, eggs and vegetables? That is why Austrian cuisine is characterized by its delicious taste and the predominance of meat and carbohydrate-rich foods such as breads and cakes.
Surely in the city of Salzburg you will not go hungry, as there are hundreds of traditional restaurants and each one has something special and unique. In this blog I am going to recommend you a traditional restaurant that you should go to with your friends or family.
Not only will you eat tasty Austrian dishes, but Austrian culinary culture hides a lot of history and traditions. These dishes combine influences from different cultures, especially from the former crown lands of Bohemia, Hungary and northern Italy. It is also considered one of the highest quality cuisines in the world.
It was difficult to choose a traditional restaurant in Salzburg, as you can find one in every corner of the city. However, I wanted to write a blog about a special and different traditional restaurant. Then, I remembered that once my friend told me that she had a very special memory, when 2 years ago she traveled with her whole family to Salzburg and they had dinner at the Johanneskeller restaurant and she remembered it as a unique, special and intimate moment, since they had not made family trips for years. So I decided to blog about this traditional restaurant.
This traditional restaurant was opened in 2013 and the owners are Peter Lammer and Silvia Löcker. It not only focuses on typical Austrian dishes, it also offers vegetarian and vegan dishes, for those who can't eat meat. In total, the restaurant has 3 rooms available. In the summer season, there is the possibility to sit and eat in a quiet inner courtyard called the playground.
The entrance of this traditional restaurant is located right next to the Trinity Church. That is why, this restaurant usually receives a lot of tourists.
LOCAL DATA
NAME: Johanneskeller (Johanneskeller im Priesterhaus).
ADDRESS: Richard-Mayr-Gasse 1, 5020 Salzburg
PHONE: +43662 265536
SERVICE OPTIONS: Eat in – No home delivery
PRICE RANGE: 11€ – 25€.
HOURS: Tuesday to Saturday => 17h-23h
Sunday and Monday => closed
OUR VISIT TO JOHANNESKELLER
As soon as we entered the restaurant, we felt a warm and relaxed atmosphere. The place had a team of very professional and hard-working staff, as we were greeted with a big smile.
On the other hand, I was surprised by the design of the entrance because it was colorful while the design of the interior was very different, as the first thing I thought when I saw the interior of the restaurant was the typical iconical traditional restaurant Austrian interior design, with antique furniture, brick walls, columns and doors made of bricks and stones.
Upon entering, we found the bar, which was located in the upper part of the premises and where there is always a lot of atmosphere. Near the entrance, there were stairs to go down to the traditional restaurant, as it was located in the basement of the premises. Later, one of the waitresses explained to us that the word "Keller" in German means basement, so the name of this traditional restaurant represents the place very well.
When we got to the basement, on the left side was located an elegant and small kitchen and on the right side the tables. We sat down in the corner and read the menu.
TASTING THE LOCAL DISHES
On the first page, it already indicated that they only accepted cash and that they did not accept credit cards, luckily we brought cash!
There were different typical Austrian dishes and also Mediterranean dishes. There was so much variety and we were so indecisive that we asked the waitress for help. She very kindly recommended us the star dish Schweinsbraten, one of the most typical Austrian meals. According to the Austrians this dish is usually eaten at a Sunday dinner. It consists of a piece of roast pork covered with gravy and served with a light and wonderful potato dump with sauerkraut.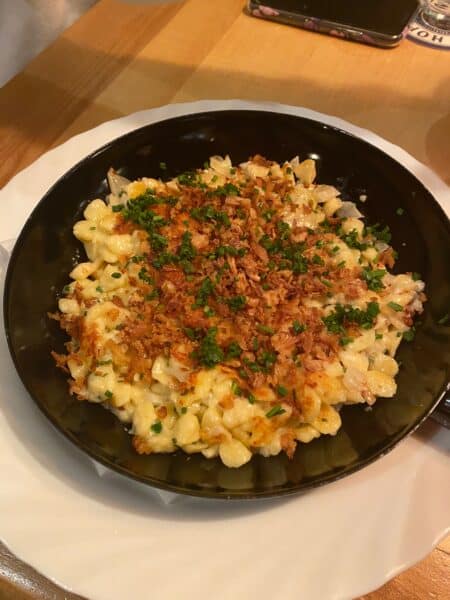 On the other hand, we ordered a plate of Kässpatzen, a dish made from a pasta called Spätzle with melted cheese accompanied by fried onions.
And finally, a pasta with vegetables and tomato to taste a little bit of Mediterranean gastronomy.
Finally, they brought us a free glass of water and the three dishes we ordered. We were surprised, as the portions were quite large.
The food was delicious, unfortunately we could not eat any more because of the large portions and we could not order dessert.
However, the waitress told us that from the desserts, a well elaborated Apfelstrudel or a good chocolate cake was the highlight.
A HEARTWARMING STORY BEHIND THE RESTAURANT
Even though the restaurant was full, one of the waitresses told me a heartwarming story of the owner of this traditional restaurant.
Peter Lammer, father of four and owner of the Johanneskelle restaurant, was involved in a motorcycle accident in 2010, at the age of 44. After the accident he underwent several surgeries and was almost completely in a cast in the hospital bed. This accident caused him some physical pain and some mental health problems that made his work in the kitchen very difficult. For him, gastronomy was everything, so not being able to work in what he loved the most was a nightmare for him. However, a good friend of his, Benhard Tichy, was the one who helped Peter to build a device so that his friend could stand up and his friend could exercise his profession without any pain.
Today Peter Lammer is not only the owner of the restaurant, but also one of the cooks. He loves his job so much that he enjoys cooking and creating new recipes for his restaurant.
PHOTO GALLERY
To read more about other similar restaurants in the city of Salzburg, we recommend the following links: