This is Sinaí and Claudia! We had a lot of fun while checking out some spots for this new project. First of all, it was very interesting because Sinaí is Mexican and she has been living here already for more than 2 years. Claudia is Austrian and loves being one. That's why she always teaches Sinaí Austrian dialect and traditions. Or how do you think Sinaí got really good at doing apreski? Of course! All thanks to Claudia! We have travelled to different cities and discovered together its charm. This time it was different and special because we were discovering new places in the city where we live! It was pretty interesting and we would like to share with you some "behind scenes" from our project.
The first stop from our trip was the famous Café Tomaselli. This traditional bakery –café serves tasteful cakes to its guests. Their main goal is to show international visitors the delicious café culture of Austria. Even more amazing, the 160 years old house used to be the home of Nannerl, the widow of the famous composer Mozart. The funny thing here is that the moment when we first found the memorial sign of Nannerl was the first time that Claudia heard about the story.
We had to continue with our trip. We were super excited to explore more secrets of Salzburg. The day that we met was few days before Christmas but with many projects at uni we didn't feel like Christmas was just around the corner. When we were there standing and just feeling the nice ambience of the Christmas markets it was impossible to do not feel Christmassy! People buying Christmas gifts, drinking glühwein, strolling around, etc. Just such a lovely atmosphere that puts you in a good mood (:
We couldn't stay long in the Christmas market because we had to continue. We walked and we were now in Universitätsplatz (University square). There we encountered ourselves with even more people than in the Christmas market (if that's possible! ) because there was a market. This daily market provides local crafts culinary specialties to locals and international tourists. If you have the chance take a look at some of the stands, there are very pretty and interesting things that you might want to take home.
It was funny because do you remember that Claudia always teaches Sinai austrian things? This time it was Sinai who showed something to Claudia. Sinai saw Awilda two years ago and decided to show it to Claudia who had never seen it! But ok ok, this statue is kind of recent, since 2010, so it's ok. However, we love it because it has a very special effect that make you want to go and touch it to see if it's real. Indeed, it is real! Does it cause the same effect on you?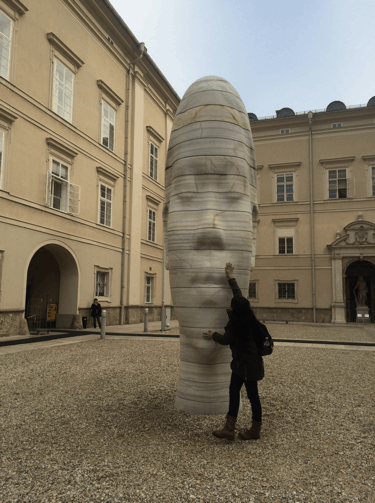 We continued walking and we were kind of getting hungry. So we decided to go for a bosna, which is in a hallway. As there are many hallways there, we got confused and went into the wrong one where we found this interesting cow. Do you remember Knopferlmayer? It seems this cow is their buyer number one because is all covered with only buttons! Cool! Isn't it?
After all we found the Bosna hallway. The delicious smell guided us there. We had to wait a little. It seems that we are not the only ones who think that this place has the best Bosna in Salzburg! The reason for this could be the secret ingredient that only the first official Bosna shop uses. A lot of international people were waiting to taste a delicious Bosna. When it was finally our turn the only thing we could say after the first bite was mmhhhhmmm…..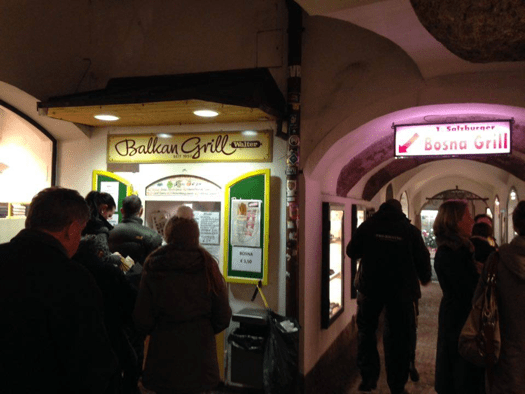 Afterwards we wanted to explore one of the modern art projects of Salzburg. A friend told us about the pickles statues. We couldn't believe it: "pickles? For real" When we were there it was pretty funny because they look kind of strange. They are so big and in different shapes. Normally you don't go in a street and suddenly see pickles statues but in Salzburg you do!
When we were walking we saw this bench. It is always painted differently. We found it pretty because of all the colors so we took a picture. As all girls always want more than one picture for everything, we took one more but with flash. Do you see the green face in the first picture? Do you see that in the second picture it turned to black? We didn't use any effect. Scaaaryyy!!
After all, we realized that no matter how long you have been living in a place, there are always new things out there to be discovered!