#3. Best 2 restaurants that you should check out in Salzburg

Food? Are you already excited to know more of what I am going to tell you? Yes, I am one of the food lovers. Coming from Southeast Asian region, I really miss the ambiance of street food available at any time of the day, the stalls, the smell of various food instantly cooked by the side of the street, and the authentic tastes that you sometimes miss in those fancy restaurants. Unfortunately, there is not so much possibility to explore street food in Salzburg. However, I was extremely happy when I found out my favourite small yet amazing 2 restaurants that gave me the feeling of being home once again while in Salzburg.
Indian vegetarian food in Salzburg
The first place is called `Spicey Spices`. Curious already? Yes, as it sounds, it offers Indian vegetarian food. The restaurant is located on Wolf Dietrich Street 1, 5020 Salzburg, right in the centre of the heart of the city.
It might not impress you when you check the restaurant from outside, but wait, check your menu, order your food of choice, and you will not regret that you decided to check it out. They do offer a wide variety of classic Indian bread, such as Chapati, Paratha, Naan as well as Basmati Rice along with various choice of vegetarian curries. They also offer some traditional Indian dessert such as Gulab Jamon and homemade energy sweet ball with the flavour with coconut which I could have eaten 3 to 4 balls easily. They also claim to use a lot of organically grown product in their kitchen.
When we visit the restaurant, we got a chance to chat with the staff responsible on that day, who was not only helpful but polite to offer us their homemade Chai tea that I also liked it very much. We also met a lovely local couple who happen to fall in love with this restaurant and ever since, they have become regular guests. Interestingly, you can also buy a wide variety of Indian spices in their shop counter which is within the restaurant. The combination of those elements really gives you the feel at home, nothing like fancy restaurants but a place where you come to eat your grandma´s or aunties´ home cooked meal.
Do Do´s Restaurant
There is the second restaurant of my favourite Vietnamese food. Dodo´s Vietnamese kitchen is located at Jugendgasse 8 in Salzburg. It is, in fact a hidden gem that not a lot of people seem to know. The location has to tell us why. It is nestled between apartment buildings on a ground floor, and you won´t see the restaurant easily from the street, unless you pay close attention to their restaurant sign. The first thing you would notice is the decoration outside the restaurant with various plants, paintings etc. That kind of give you the vibe of Vietnamese theme in the middle of Salzburg.
Talking about food, we got their signature Pho Bo (Beef Pho) and Beef Fried Ramen with a couple of different spring rolls. I would say the spring rolls tasted average but both Ramen and Pho Bo were really good, not so heavy but full of flavours and herbs. In addition to the food, I must really shout out to the service, as it was excellent. The lady working on the day we went was really helpful, providing the best service I have experienced in Salzburg.
The feeling was a bit more of an aunty serving you food at her place rather than in a normal restaurant. I can relate that to many Asian countries service style as that is how you are served in many places in Asia. Talking about menu, they offer a wide variety of noodle options as well as some Bahn Mi (a Vietnamese style baguette stuffed with sausages, meats, and vegetables). In addition, they also offer hot beverages such as Bubble tea with different flavours and Vietnamese style coffee.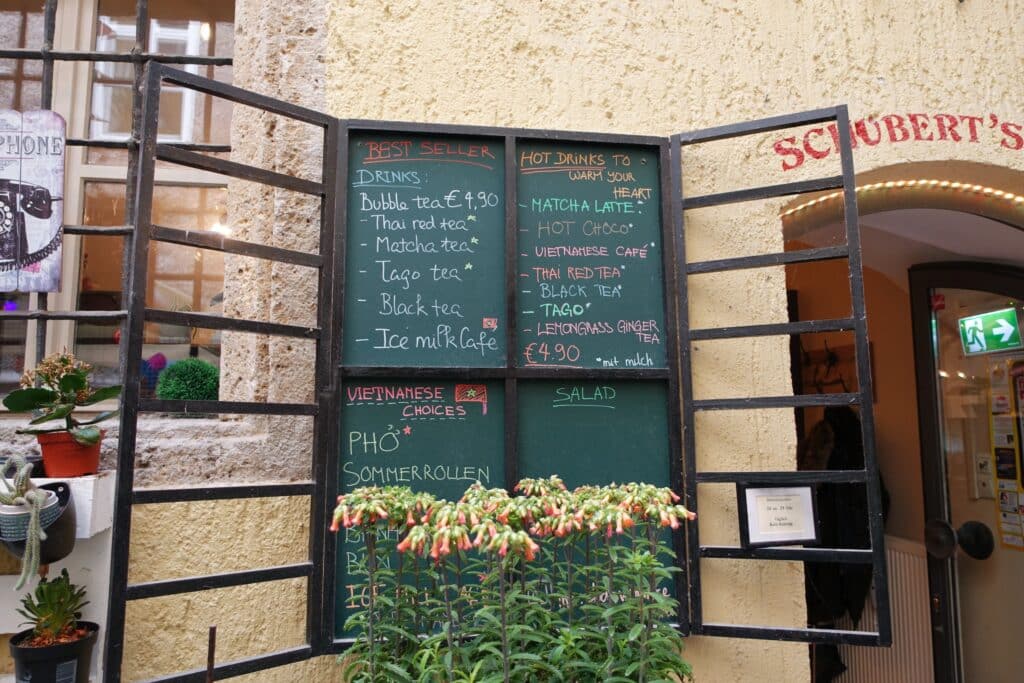 If you like to read more about the reviews of these two restaurants, here is the place to click, Spicey Spices Tripadvisor Review. The restaurant Do Do´s seem not to be on Tripadvisor, so why not check it out in person? If you would like to check more about other food review written by other students, here you go food review Salzburg.
I´d like to thank our professor Wolfgang Grabs-Schrempf for giving us the opportunity to write our own blogpost. It has been a great experience learning how to start blog post, take quality pictures and write your own favourite subject. I also like to thank my colleague Thais for her help and support during the writing process. I won´t be able to make it without her great ideas on the design of the blogpost.
I hope you enjoy reading the blog, and if you are interested to explore those restaurants, feel free to do so.