Hey all the lovely people out there!
Following our first blog post about a place, that has a breath taking view, now we would like to invite you to a journey into the world of coffee, where finding relief is guaranteed. What do we mean by that? Well imagine a world, where you are struggling to write your thesis or prepare for your exams. Every single minute, you are trying to fight against yourself in order to find motivation, and not to get a mental breakdown. You get frustrated and tired and you see no way out of this battle. Well, we have the perfect solution, which will help you to be productive and successful no matter what.
As a coffee expert and barista, my approach to coffee is extraordinary. I do not settle for less so believe me, when I say that we found the perfect place for you if you are searching for a place to study and drink tasteful coffee at the same time. The waiting is over! Let us take you to Coffee Press, where all your fear will disappear and all your motivation will find the way back to you.
Jenn, Rita and I had the pleasure to visit this amazing place on 11thof April, which was a sunny Wednesday morning. The place is located in a hidden area, Bergstrasse 10, where you can find relief without stressing yourself, while you are trying to avoid the crowd. One of the main characteristics of Coffee Press, that it is directly connected to Salzburg College and the whole concept is to provide a student friendly café.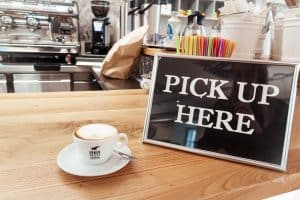 Do not be surprised, when you enter to this wonderful place, and do not leave because you can not believe in what you are experiencing. Yes it is a fancy place and yes, the interior is not like any others and yes, places like this exist in Salzburg. So please, be brave, take a seat and let yourself dive into the world of studying.
Coffee Press focuses on supporting the local community, by using only Salzburg based coffee beans and other coffee related products. There is wide variety of drink and food choices, including a simple lunch on a daily basis. The interior is unique, since the owner asked Austrian artists to create different kinds of figures, that represents famous aspects of Austria. It is a traditional touch in a modern place.
One of the main advantage of Coffee Press, is that they offer free wifi and huge tables, with comfortable chairs, which are ideal for group works as well. You do not need to worry about, if your battery is low, since you can charge your electronic devices all over the café.
We hope, that we awakened your interests towards Coffee Press. Do not hesitate to go and visit this place, because you will not regret it. Trust us, you will find your happy place there! We wish you an amazing discovery and good luck for your studies!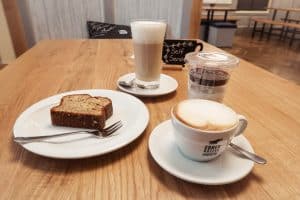 Facts:
Address: Bergstrasse 10
Salzburg, Austria 5020
Opening hours:
Monday – Friday: 7:30 – 19:00
Saturday: 8:00 – 18:00
Sunday and Public Holidays: closed
Payment methods: cash or credit card
Drinks: €€
Food: €€
Friendliness: extremely friendly owner, who offers an unforgettable experience
Extra: Free Wifi
#ExperienceSalzburg #StudentsOfTheFHS #studyoutside #escapethelibrary