A Serbian, a Spaniard, two Hungarians and a Czech enter a bar… NO, your lucky, this is not the beginning of a bad joke- it's the beginning of the adventure of five students on the pursuit of the best beer in town.
Drinking beer instead of sitting in a lecture- Yes please! And with this enthusiasm me and my four study colleagues started our beer tour through Salzburg. First stop- traditional brewery Stiegl. If you are looking for the authentic Austrian taste and experience this is the place to be. Choose from about thirty different locally brewed beers, listen to traditional music and order a  ,Leberkässemmel' with your beer to increase the Austrian feeling. If you are lucky, you will meet the very friendly waiter that served us- you will spot him very easily- an 'I just wanna get out of here' look and an unforgettably frustrated facial expression…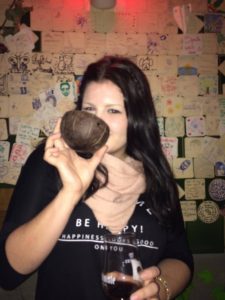 Second stop Ausgustiner Bräu- now this one is a very special place I find. In summer you can enjoy your pint in the spacious gardens, in winter or on colder days taste the one and only Augustiner Bräu beer inside the beautiful halls of the brewery.  Beer beginners should decide to get the lighter beer, the more experienced drinkers can definitely start out with the stronger version. However you decide, I guarantee you at the end of your visit you will feel like a real Austrian – actually, I only guarantee a beer belly  😛
And because you can't find happiness at the bottom of a beer, we continued our quest in the next location.  After the traditional breweries we decided to hit up a more ,hip' place, the Alchimiste Belge bar. This small, but very cozy bar right in the center of Salzburg is certainly a hot spot for beer lovers. Prepare yourself for a journey around the beer-world of taste.  Alchimiste Belge let's you choose from over  150 different beer brands- two brands I would definitely recommend:  HOEGAARDEN, an unfiltered light beer, about five percent of alcohol certainly is very tasty and Floris, for those who prefer stronger and more bitter beers 🙂 The atmosphere in this place is very laid-back and although this place is only open until 1a.m. , it is perfect for the after work or weekend beer. If you still want to continue to drink after you can do so in the Beffa bar, which is operated by the same owner and is only a few steps away from the Alchimiste. And that is what we did. The Beffa Bar is a little bigger than the Alchimiste, it is quite gloomy, but very comfortable as well. What I liked most about this bar was the music and the Coconut beer (highlight!:). Have you ever heard of coconut beer? Well, I hadn't before and I must say the combination of the light beer with coconut flavour was surprisingly tasty. This beer is definitely recommended to anyone who enjoys sweeter tastes.  After a couple of beers we slowly realized that we started to get tipsy which made the whole thing even funnier 😀
All in all, I must rate this project with an A plus. I think friends and a lot of beer is always a good combination. I can't say that we found the best beer in Salzburg, because every place and every beer was different and unique in its own way. Although Salzburg is a relatively small city, there are many great spots, more or less known, where one can relax with a pin of beer in their hands.  So what are you waiting for, go and  experience the taste of Salzburg yourself!!! One last thing- PROST!
Written by:
Lucy Timkova