Still hungry or already hangry? Fed up with cooking random stuff on your own? Go out and taste the Spanish and Italian flavors in the middle of Salzburg! Here is the exclusive list of our personal favorites…tasty, stylish and affordable.
#1 Lemonchilli
Nonntaler Hauptstraße 24
It tastes as it sounds – DELICIOUS!!!! Whether Chillis, Wraps, Nachos, Steaks, Burgers, Soups and changing seasonal dishes, it has all your foodie heart has ever wanted. Combined with a colorful, joyful and stylish atmosphere it is the mediterranean place to be in Salzburg. Their terrace is surrounded by palms and their cocktails are incredibly good, we would call them BOMBASTIC 🙂 If you go there for lunch, you'll get a menu for 6 €, including one main dish and either soup or salad, this is not much more than FAGO charges you!

#2 L'Osteria
Dreifaltigkeitsgasse 10
It's all about Pizza, Pizza, Pizza. Of course they offer classic Italian pasta too, but honestly, their pizza will change your whole pizza world and you'll forget every bad pizza you've ever tasted so far. Not only their size (and they are huge, believe me) but also their thin crispy crust, the salami, prosciutto, mozzarella, olives, sardines, tomatoes…make it to a one-of-a-kind experience -> if you only go there once. But hey, you will go there a second time, a third time…and do it like me and taste all the different pizzas! Go and get your chilli oil on your pizza!

#3 Bodega – Tapas Bar & Café
Innsbrucker Bundesstraße 95
Their slogan: "Submerge with the Spanish Food Culture". My motto: "Pump yourself with Spanish Food". Paella Thursday: The best paellas in town!! For those who don't know what a paella is (unbelievable, but there are still humans out there who don't know): traditional spanish rice dishes cooked and served in the pan, mostly colored with saffron to get this sunny appearance. You can add whatever you like but my favorite is tiger prawns, blue mussels and red pepper. Sorry, I have to leave now, I am hungry 😉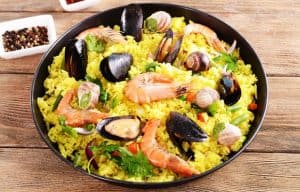 #4 Pasta e Vino
Wolf-Dietrich-Straße 31
Professionally translated that means: noodles and wine, what a combination 🙂 indeed, some claim that pasta only reveals all its flavors in the combination with the right wine. The staff: true Italians so you are on the right way if you do not only want to get Italian food but also the spirit. A great opportunity for a friends night out that creates good memories (I didn't want to write unforgettable, because this is depending on the amount of wine you drink 😉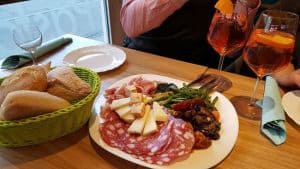 #5 Tiziana Gelato & Caffè
Franz-Josef-Straße 3
Still hungry or just craving for sweets? Who not? Well, if you are looking for "la dolce vita", then you should head to this small and cozy Italian café. They are serving one of the best ice creams in Salzburg and even confirmed Italians swear by their espresso. Go and give way to your inner sweety needs.