The Beginning of your Journey at the Outlet Center
Most of the tourists in Salzburg do not realize how well-connected bus 10 actually is, when starting in the old part of town you can easily take this bus on a journey you will never forget. Once getting off bus 10 at the bus stop Himmelreich, you can find yourself across the street from the Outlet Center Salzburg. Here you can shop for amazing deals and grab a quick bite to eat all while being inside the Outlet Center. The stores range from Luxury clothing such as Hugo Boss to high-end Chocolates such as Lindt und Sprüngli. The stores are all located inside this beautiful building offering two main floors, the ground floor, and the basement floor. Consisting of 80 shops you can spend hours inside without ever getting bored.

One thing to look out for while visiting the Outlet Center is when the next Shopping Week is going to be, you can get up to 70% off already discounted prices during the sales weeks. People from all over the world stop by to shop and get the best deals. Offers for example can range anywhere from 10 to 70 percent off in some stores. Items that have been bought can also be stored in lockers to be picked up later, and if you know someone with a car it's no problem as parking is free for the first two hours.
Holiday Events
The Outlet Center is also a perfect place to buy your holiday gifts, during the Easter season Lindt has an Easter Rabbit who will give you free chocolates(it's usually me). You can also purchase the golden chocolate rabbits at this time which come in creamy milk chocolate, white chocolate, or dark chocolate. During the Christmas season, the halls of the Outlet Center are filled with lights and you can buy gifts for your family and friends or purchase an advent calendar for yourself or others.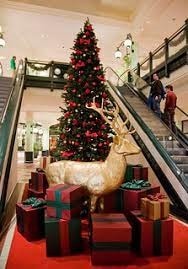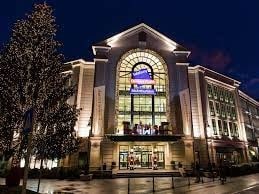 There are also many places to grab lunch/dinner or a quick bite to eat. The Outlet Center has a Pretzel stand, Donut Stand, an Asian restaurant, and a Burger joint called Pommes Boutique. Newly added to the Outlet Center is Anker which sells sandwiches and drinks for something quick to eat on the go. For an afternoon dessert or just a quick sugar boost, Lindt und Sprüngli offers a wide range of chocolates from Pralines to their famous Lindor truffles.
Have kids? No Problem!
The Outlet Center offers kid-safe shopping carts for quickly getting your kids from point A to point B. The carts are in the shape of small cars with a steering wheel to give your child something to play with while riding. On the basement floor of the Outlet center, there is also a small playroom with a jungle gym and some toys to play with, and down the hall, there is a small rock-climbing wall where kids can get some energy out if needed.
Tips and Tricks
If you are considering spending some time in the City of Salzburg bus 10 is a great way to get back to the city from the Outlet Center. Bus 10 is well-connected and if you are looking for something else to do in the evening you could visit the Stiegl Brewery or Hangar 7 which have both been written about in separate blog posts. The Stiegl brewery is a great place to bring some friends and have a beer or two. As for Hangar 7, this is a perfect date night restaurant or a nice daytime activity if you visit the museum.
Table of Contents
GET IN TOUCH
Designer Outlet Salzburg